Johnson holds multiple powerlifting records
When Joey Johnson '19 was 17, he completed his first weight-lifting goal: benching 315 pounds for the first time. Since that moment junior year, Johnson has added to his collection of records and awards.
"Seeing the three plates shows that you're a strong person," Johnson said. "Benching 315 is a big accomplishment for a lifter, and being able to achieve that at 17 is a dream."
In powerlifting competitions, there are three main events: deadlift, squat and bench. To win in an event, the competitor must have a stronger lift than the rest of their age/weight class, and they have three tries to accomplish this, Johnson said.
Johnson has an American Powerlifting Federation national record for squats in his age group of 18 to 19 year-olds, held at 507 pounds. Johnson also holds multiple state records for his age group, which he gained at the competition on March 31.
"When Joey started training with us, his squat was his weakest lift. We had to start from the ground and build his squat up," Johnson's coach Jennifer Gimmell said. "Along the way he questioned a lot of the things we were telling him about his foot placement and where the bar should be on his back. After a few months of training he began to believe that we were leading him in the right direction; the capstone of his squat training was at the state meet where he was able to leave the meet as a state and national record-holding lifter for the squat."
Johnson has been training since he was in sixth grade, but only in the last few years did he start taking lifting more seriously, he said.
"Joey has been a member at our gym, 2XL Strength and Fitness, for a little bit over a year," Gimmell said. "In that relatively short amount of time, he's really come a very long way as he's slowly transitioning away from lifting like a normal gym-goer to a competitive powerlifter."
In the future, Johnson hopes to move into personal training as a career, or possibly open his own gym, he said.
"I want to help people better their lives," Johnson said. "When I started [lifting] I didn't know what to do, and there were a lot of people willing to help me."
For the near future, Gimmell sees Johnson breaking more records and improving overall, she said.
"I hope that Joey will continue to train with the same intensity that he brings to the gym every day," Gimmell said. "I know that with some time under the bar and with some patience and focus in his training he will be able to get the lifts that he missed at his next competition in July."
About the Writer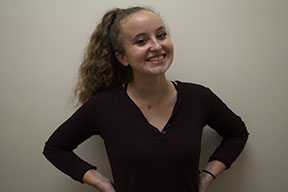 Isabella Sorice, Social Media/Photo Editor
"I don't have time to write a staff bio"