A To Do List for Gar Pax
The Bulls are at rock bottom. They are one of the worst teams in league and arguably the worst in the Eastern conference. Realistically, however, they are not in a terrible position to improve. They have a few budding stars in Zach Lavine and Lauri Markkanen, but there are still many moves that must be made before they return to the 50 win, contenders they were during Derrick Rose's prime.
Step one: prepare for the NBA draft on June 20. With under 4 weeks to go, they need a game plan now. With a 12.5% chance of the first pick their odds are not terrible, but as of now it seems most likely that the Bulls will land the third or fourth pick. Obviously with the first pick it would be nearly impossible to justify not taking Zion Williamson, however, by the time it is the Bulls' pick, he will be long gone. What they need to focus on is a new point guard. In this particular draft class there are a few highly skilled, NBA ready PGs. Ideally anyone would want Ja Morant, an electrifying freshman out Murray State, but yet again by the time the Bulls pick at the 3 or 4 Morant will likely have been taken. However, even with Morant gone, the Bulls have a multitude of viable options in Cobe White out of NC, Justin Robinson out of VT, Darius Garland out of Vanderbilt, and Cassius Winston out of MSU. The argument for White is he can score at will and he just got off a season where he broke Michael Jordan's freshman scoring record at NC. The argument against White is he might be more of a score first player and he is selfish with the ball at times.
Although a point guard is the most ideal option, aside from Morant and White the other three don't have the necessary scoring ability, athleticism, or experience needed for the NBA. The 'taking the best player available' strategy is still valid. With a draft like this jam packed with talent it is hard to say take Winston, Robinson, or Garland over Jarrett Culver, RJ Barrett, or Deandre Hunter; all three of which are pro-ready, highly versatile players. If I had the choice of anyone I would have to take Zion; he isn't human. He has a pro-frame, pro-rebounding ability, and most importantly pro-intensity. All year I have said that I don't think Zion is the best in terms of overall skills, but he is the best overall because he plays with 100% effort on both ends all game long. My second choice is a high flying, dime throwing human highlight reel: Ja Morant. He has pro athleticism, pro passing ability, and good overall scoring ability and he is the only division one college player to ever average 20 pts and 10 assists a game. My last choice out of the top three would be RJ Barrett; if he were on any other team in the country he would have been the focal point of the offense. But Barrett played on Duke with Zion, despite having to share the ball with a guy that got a CBS segment dedicated to his highlights (The Zion Cam) Barrett averaged over 20 pts and 7 rebounds a game. He did all of this whilst being a freshman in college. Two or three years down the road he could develop into a perennial all star. Sadly, if I could pick for the Bulls, it isn't likely that I would have the opportunity to draft any of the three of those players I mentioned. That is why with the fourth pick I would take Cobe White.
Step two: dump bad contracts and start to focus more on the future. Since acquiring Robin Lopez from the Knicks in 2016, the Bulls have been paying him over $13 million a year. For nine points and four rebounds, it simply is not worth it. Fortunately the Chicago front office has already disposed of Jabari Parker who turned out to be a bust with a bad attitude. The decision to trade Lopez should be easy because they have Wendell Carter Jr. a rookie out of Duke who averaged 10 pts, seven boards, and one block. He put up these stats all while coming off the bench for large parts of the season. The more the Bulls go to him the better Carter will get over time and the more the team will benefit. Through avoiding these bad contracts the Bulls can focus on the last step to success. Unfortunately few teams will be willing to take on these overpaid players without some incentive. They could throw in a few picks over the next couple years or they might just have to hold on them, even though the only contributions Lopez makes are his bizarre fights with opposing mascots.
Step three: go off in free agency—as of right now the Bulls have around $10 million in cap space. If they find a way to get rid of Lopez and Cristiano Felicio they can get another $22.5 million in cap space freed up. With that $32.5 million to spend the Bulls could sign a more than one of the many stars in free agency this upcoming season. Just a few of the franchise building players are Kevin Durant, Kyrie Irving, Kawhi Leonard, Kemba Walker, Klay Thompson, and Khris Middleton. Signing anyone of these guys would be insane. Everyone says Irving and Durant are going to play for the Knicks and Kawhi will play somewhere in LA  in order to go into a big market, but Chicago is also a big market. It isn't unlikely that one or more of them could come to play in the Windy City. In a perfect world, I would want Kawhi and Klay to come to Chicago, because they are low drama, highly efficient, and lockdown defenders.
The Bulls look awful right now but with a good pick in the draft, some cap space freed up and most importantly some key additions in free agency, they could be back in a big way.
About the Writer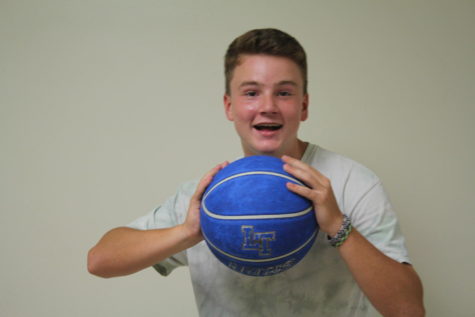 Tommy Layden, Sports Co-Editor
Tessa Voytovich

That's it just tessa