Baseball expects wins
After winning conference last year, boys baseball is back for its spring season. With a record of 25-8 last year, head varsity coach Kevin Diete anticipates another strong season.
"[My goal is] to improve as a team," Diete said. "We want to continue our strong defense and hopefully repeat as conference champions."
Having a good practice regimen is key, Diete said. With practices every day, Diete wants to see the team execute defensive and offensive plays, while pitching is their greatest potential.
"Lots of perfect practice is important," Diete said. "We want to be able to score more runs, which will help keep us in the game along with our pitching."
Varsity pitcher Grant Leader '19 is hoping to improve his individual skills this season.
"I had too many walks last year, so this year I'm really focusing on command of all my pitches, so my pitch count can be lower and I can go deeper into games," Leader said.
With a strong group of seniors including Eric Steensma '19 and Michael Walsh '19, Diete is expecting to win the regional championship, which hasn't been done in seven years, he said.
"One of the best parts of coaching is being able to see the players develop," Diete said. "Not only seeing the team on varsity, but their improvements from freshman year to varsity."
Varsity pitcher and catcher Connor Cassady '20 has noticed how the team has improved in the offseason. They spent time learning from their mistakes made during last season and worked on correcting them, Cassady said.
"As a team, we have made large strides in the offseason, focusing on slight mistakes that led to ending seasons early in the past," Cassady said. "We lost the regional championship last year and by knowing the hard work we all put in, we believe we are capable of breaking past that point [this season]."
Throughout the years, Leader and his teammates have spent a lot of time together. They have become very close, he said.
"At LT, I've been playing with most of these guys since I was 10," Leader said. "We've got a great bond going, it's a brotherhood."
Along with the physical aspect of baseball, Leader also enjoys the mental escape, he said.
"My favorite part of baseball is definitely being out there on the field and thinking about nothing besides the next pitch," Leader said.
Cassady is looking forward to a rewarding end of the season. With a strong team bond and great skill, he believes they can advance easily, he said.
"Our goal this year is to win the state tournament, I know that sounds kind of cliché, but we have the tools to do it," Leader said. "We have arguably the best chemistry in the state, and when everyone has each other's backs, we can make it far in the state tournament."
The team's next game is April 15, against Downers Grove South high school.
About the Writer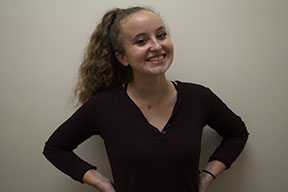 Isabella Sorice, Social Media/Photo Editor
"I don't have time to write a staff bio"