Boys gymnastics faces roster changes
Hang on for a minute...we're trying to find some more stories you might like.
Last May, Matthew O'Malley '19 won vault at sectionals, which automatically qualified him for the state meet. At state, he was the last vaulter to compete, meaning he knew exactly what score he needed in order to make it to finals. He received that score and went first in finals. Afterward he had to wait and watch the rest of the vaulters compete, to finally see that he had won the state title in vault, and celebrate with his family and the rest of the team.
"It was awesome," O'Malley said. "I went from sitting there watching everyone go and being so nervous to then being so excited. It was just a crazy transition of emotions."
Last year, many other team members qualified for state and the team placed third overall, Head Coach Sam Zeman said. The year before that the team got second, and they have been top five in state the past four out of six years.
"I was really proud of those guys," Zeman said. "We have talented kids with good integrity and character. I think we will still be competitive at the state level."
The team lost six seniors and will be a younger team this year, Zeman said. Due to many of last year's seniors graduating, they will especially be looking for younger classmen to do still rings, high bar and pommel horse. They have freshmen including, Alex Paras '22 and Randy Yonan '22 who are coming from club teams or have prior experience. The team will also be looking to the large number of sophomores, including Ben Taylor '21.
"We did lose a lot of seniors, so we will be more dependent on the younger kids," O'Malley said. "However, we do have many underclassmen who are individually very talented. They all love gymnastics and are really dedicated."
Another loss to the team was Marty Lanigan '20 due to a back injury, O'Malley said. He was awarded Most Valuable Player last year and had won the most total points for the team. Although he will not be able to compete he is going to be the team manager and will be helping at all the practices and meets.
"It's unfortunate for him[Marty]," Zeman said. "He's a class act. I want to see him succeed and achieve his goals. We want him to still be a part of the program and to know that he is always a part of our team."
A week before the season started, the team had a bonding event on the high ropes course in the NC fieldhouse, varsity gymnast Julian Campbell '19 said. They have been physically preparing for the season by training at intramurals. Many athletes including Campbell, have attended almost every day. Besides intramurals, some members have been going to open gyms and some gymnasts practice on club teams.
"We've been practicing for the last several months during intramurals," varsity gymnast Genaro Giovingo-Mino '20 said. "I'm excited to compete because I think one of the most exciting parts of gymnastics is when you get to show off what you've learned."
The season started Feb. 11, and the team's first meet is today, March 1 at Hinsdale Central, Giovingo-Mino said. Gymnastics is a non-cut sport. It takes freshman up until spring break, and previous experience is helpful but not required.
"If someone tries out for another sport and doesn't make it, they are welcome to join gymnastics," Zeman said. "This way freshmen still have an opportunity to be involved in athletics even if they do not qualify for their first sport of choice."

About the Writer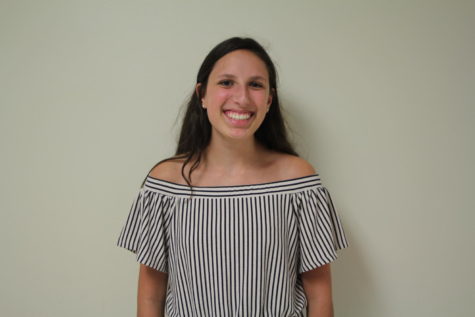 Nicole Klein, Reporter
Hi, I'm Nicole Klein! No, I'm not related to Calvin Klein, but yes, that would be cool.