AOTM: Micheal Walsh '19
As Ryan Hammond '17 touched the wall at just over one minute and 30 seconds, LT shattered the previous state record by less than a second.  Along with the help of Spencer Walker '18, Jeffery Vitek '18, and Michael Walsh '19, the swimmers set the new record for the 200 yard medley relay, automatically making all four All Americans and in the process leading LT to its second consecutive state championship.
Two days later he prepared for LT baseball season.  As Walsh stepped on the mound and threw his first pitch he felt a pop.
"At first I pretended nothing happened, and my next pitch went 15 feet—I knew something was wrong, I could not bend my arm," Walsh said.
Unfortunately Walsh had just fractured the growth plate in his epicondyle. His first varsity season had come to a close after just one 89 mph pitch.
"I went to Rush hospital, I got an X-ray and an MRI," Walsh said. "Then Dr. Verma, the team physician for the the Chicago White Sox came in, and he said I wasn't going to be able to play my sophomore year."
As Walsh approached the most crucial stretch of college baseball recruiting, the summer between his sophomore and junior year, he was sidelined.  All he could do was train to strengthen his legs and his core.
"I got so bored of running that I even learned how to throw a little bit left handed," Walsh said.
Walsh pressed on, he got healthy and by the fall of his junior year he was back on the mound making his parents proud.
"He struck out the number one or two hitter [in his junior year], and that was a fun, exciting moment, but I'm most proud of how he has handled himself through high school and the person he has become,"  Michael's mother, Allison Walsh, said.
After a string of strong performances at tournaments and showcases run through Perfect Game, Walsh was named an All-American by the end of last summer. Walsh's parents, Allison and Michael T., have been very proud of their son's All-American status in the pool, on the mound and in the classroom.
"He wouldn't get there without his willingness to hear the message from his teammates and coaches," his father said.
Although this upcoming state meet may be one of the last times Walsh swims competitively, he plans to continue playing baseball in 2020, at Yale University.
"[The] sacrifices on his part, [were] he had to miss out on social things to always be at a game, always be in shape, and always be training, to stay dedicated to the sport, " his mother said.
In each of the past two seasons, Yale has led the Ivy league with a 16-4 record in 2017 and a 15-6 record in 2018. The success of late is what made Yale such an attractive choice for Walsh.
"I always told Michael to go somewhere only his athletics and grades combined could get him, and [Yale] was the best option," his father said.
In anticipation of baseball season Walsh continues his training regimen, which includes lifting, shoulder exercises, and throwing a certain number of pitches each week. In the past  two years LT has a 4-2 record against Hinsdale Central. In his final year Walsh is looking forward to his last games against Central.
"I'm going to miss unleashing a reign of terror and brutally demolishing every little boy that HCHS puts out on the field," Walsh said.
In the state meet on Feb. 22, Walsh swam the 200-yard medley relay, 50-yard freestyle, 100-yard breastroke, and 200-yard freestyle relay. He set a team record in the 50-yard freestyle and 100-yard freestyle, and placed third and second place overall, respectively. He recently started baseball season, and will pitch in the team's first game on March 18.
About the Writer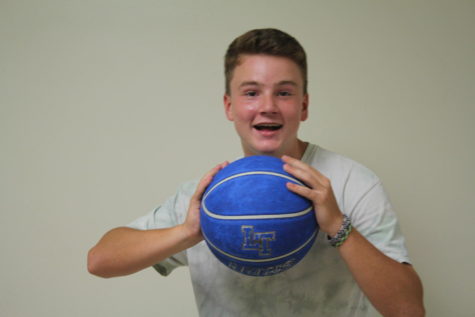 Tommy Layden, Sports Co-Editor
Tessa Voytovich

That's it just tessa