Badminton team hopes to add to last year's success
Girls look to qualify a whole team for state meet
After sending a doubles team and a singles player to the state meet last year, the girls' badminton team is hoping to improve its conference finish and send a whole team (two singles players and two doubles teams) to state, varsity Head Coach Susan McClenahan said.
"We did really well and ended up in a tie for first after regular season conference play [last year]," she said. "We struggled at the conference meet and ended up fourth. It was tough but I think that'll make the returning players hungry and fired up for this season. We qualified a singles player and one doubles team for state last year. It would be great to add to that this year."
This year's team will be without Lauren De La Rosa '18, who went to state last year for the doubles tournament with Elizabeth (Lizzo) Cremins '19. Cremins will be returning this year along with Katie Materick '19, who went to state in the singles tournament. With the addition of new players, the skills and rankings on the team change.
"Each year brings a new team with new faces and different skill sets because every player has a different shot they specialize at,"  Materick '19 said.
Girls' badminton is a cut sport, and has become more competitive over the years, McClenahan said. Many of the players take private lessons during the off season and go to intramurals every Thursday to prepare for the season, Materick said.
"In order to continue to be competitive the girls have to play most of the year and really focus on the technical aspects of the game," McClenahan said. "I hope the girls are ready to go, it should be a fun season."
Badminton is different from other sports in that the coaches can't coach the players during matches, so the majority of the instruction in strategy has to be taught and learned during practice, McClenahan said. The coach has to find a balance at practice between drills, conditioning, and game play between singles and doubles players, she said.
"My role is to facilitate practices that allow for the best opportunity for the girls to reach their goals," McClenahan said.
The team is looking to improve upon their end-of-year finish in order to have a strong sectional lineup and send players to state, Cremins said.
"I want to go to state for doubles, state in general because I went last year and it was really fun," Cremins said. "Since this is my third year on varsity, I'm looking forward to having more freedom this year and being higher up in the lineup."
The West Suburban Silver Conference is a very competitive conference, and LT will train hard throughout the entire season to see how they stack up against some of the best badminton players in the state, McClenahan said.
"The goal is to train really hard to be the best we can be," Materick said. "I think we have a good shot at going far this year."
The badminton season started on Feb. 25, and the team's first meet in on Tuesday, March 12 at Lockport High School at 4:30 p.m.
About the Writer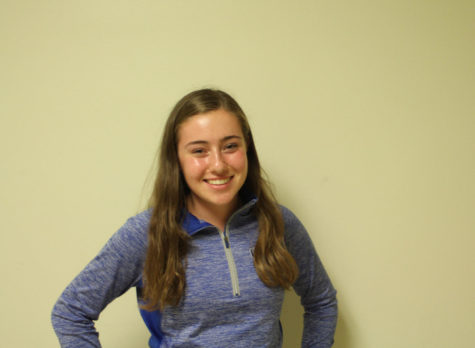 Diane Makovic, Co-Editor in Chief