LT looks for revenge in Blackout Game
Boys basketball wants to avenge past losses vs.Prospect
The last few times LT and Prospect crossed paths, it didn't go too well to say the least. They lost in a blowout 69-47 in 2016-17 and 61-36 in 2017-18. But this Feb. 22 at 7:30, Josh Berry '19 says "we are expecting a good game, [although] they beat us the last couple times."
Prospect is ranked at 152nd in Illinois, whereas LT is 54th in Illinois, and both teams have winning records within their conference. But Prospect still brings up bad memories from the past two seasons.
"These guys have given it to us the past 2 years and we felt embarrassed after playing them;  [now] we want to show them how hard we work and to try and make one last statement before playoffs," Player Matt Sloyan '19.
The starting lineup for this game will be the same it has been for the last few weeks; Nate Vedok '19, Tyrese Shines '19, Nolan Niego '19, Sloyan and Berry.
"Grant, Mike, Will, and Jack will all come off the bench, [and] I think they usually have us beat on height so we will need to push them around more than they would like, but we have been doing that all year, it's nothing new," Sloyan said.
Throughout the school year the fan presence—most evident in the LT Weirdos—has been appreciated by the players, but this Friday, the team is hoping for a large turnout to help the team get a revenge win.
"When there is a large crowd it brings a large energy the team can feed of off, especially hustle plays; rebounding,defense, and overall effort," Head Coach Tom Sloan said.
The impact the student section has is relatively unknown, but players praise the Weirdos for their passionate support.
"When you are tired and you don't want to hustle back the fans motivate you and they really are the sixth man," Sloyan said. "Prospect doesn't know what is coming."
Additionally, LT alumnus Josie Dunne is performing at the Blackout game's half time.
About the Writer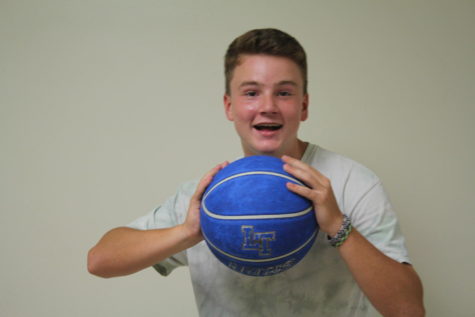 Tommy Layden, Sports Co-Editor
Tessa Voytovich

That's it just tessa