Head varsity football coach resigns
After 10 years of coaching at LT, head varsity football coach Kurt Weinberg is leaving football to spend more time with his family.
"I haven't been able to see my kids play their sports in the fall," Weinberg said. "It's time to put family first."
Weinberg finishes his LT football career with a record of 60-46. He made the IHSA playoffs nine out of his 10 years, advanced to the Sweet 16 four times and progressed to the quarterfinals three times in  2010-12.
"I am proud of the games won, and that we did things the right way: treating players with respect and running a quality program," Weinberg said.
Although he is leaving football, Weinberg will continue his career at LT.
"I will continue to teach, as well as coach lacrosse, and now be able to see my kids [play] during the fall," Weinberg said.
Varsity quarterback JJ Dutton '19 has good memories playing under Weinberg's coaching. He was pushed to do his best, but also had fun, Dutton said.
"He was so easy to talk to and I loved being coached by him," Dutton said. "I could take his critiques and ask him questions. I knew he had been there before in his days so he was awesome to have around."
Throughout his three years being coached by Weinberg, varsity linebacker Sean Rickman '19 learned life long lessons. Weinberg taught Rickman and the team to not only succeed on the field, but in their everyday lives, he said.
"He's a great guy and great coach who doesn't only care about having a good football team but also cares about the kind of men his players will grow up to be," Rickman said.
On the field, Weinberg helped his team stay collected, Rickman said. Weinberg was able to give the team needed motivation before games and the reassurance they needed after, Dutton said.
"He was really good at calming the nerves that a lot of guys get going into a game," Rickman said. "He would always remind us to enjoy it and not worry about the outcome but just give it our all every play."
Looking back, Weinberg is happy with his time spent coaching football at LT.
"Being able to work with great coaches and players while here has been the highlight," Weinberg said.
About the Writer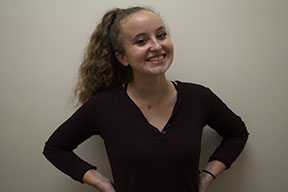 Isabella Sorice, Social Media/Photo Editor
"I don't have time to write a staff bio"