Wrestling prepares to pin, win
After finishing last season with a record of 12 wins and 12 losses, the boys wrestling team has returned for another season. Assistant coach Patrick O'Neil is hoping for more successful results at meets.
"After the last season ended, the team made two goals: put in a lot of effort in the weight room to improve strength, and get as much experience in offseason matches with freestyle wrestling," O'Neil said.
The team started practicing on Nov. 5, with six days a week of commitment, O'Neil said. There are 14 members on junior varsity and 14 members on starting varsity this year, with an additional two teams; one of freshmen and the second string of junior varsity.
"The focus is always on development and improvement," head coach Griff Powell said.
There is a necessary amount of commitment that comes with an intense training schedule, David Bedolla '19 said.
"This sport is tough," Bedolla said. "It can shape you as a person, wrestling helps you manage your time, and build relationships."
When there is a meet, members of the team will compete to win a varsity spot for that match. This can mean that if a wrestler has improved his skills, he can take another member's place on varsity.
"This is a fair process because it ensures that everyone has the chance to wrestle at a varsity level," Jake Moran '20 said.
Powell believes that the team has more experience than in past years, with an even amount of upper and lowerclassmen.
"We have several wrestlers that have had significant mat time on the varsity level," Powell said.
On the team, coaches look to returning members of the team for leadership, such as Jimmy Ruston '20 and Drake Barone '19, O'Neil said.
"We have several individuals that work extremely hard that will be able to make a positive impact on the team," O'Neil said.
Bedolla is ready for another year of competition, he said. As this is his last year on the team, he is anticipating a strong season.
"[Wrestling] is hard work mentally, being a part of the team shows commitment," Bedolla said. "It gives a person discipline."
The team's next meet is Friday, Dec. 7 in the NC Vaughan gym against Oak Park River Forest High School at 6 p.m.
About the Writer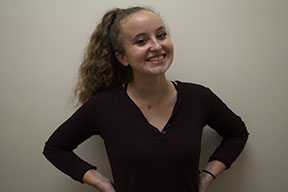 Isabella Sorice, Social Media/Photo Editor
"I don't have time to write a staff bio"