Athlete of the Month- Ty Williams '19
As boys varsity soccer struggled to take home a win at the beginning of the season, Ty Williams '19 was moved from playing center forward and midfield positions to the centerback position on Sept.13 before playing Streamwood High School. After that change was made, the team won six consecutive games.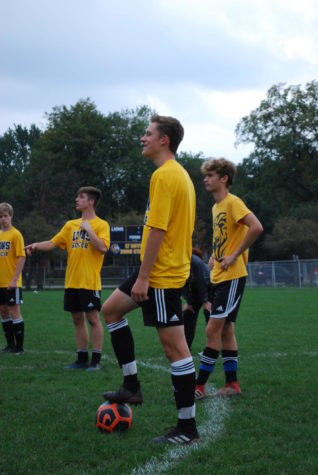 "His calming effect has really helped our defense and our team overall," head varsity soccer coach Paul Labbato said.
Williams has been playing soccer since he was 2 years old. His love and skills for the game have only increased as the years have gone by.
"[Playing soccer] is my favorite thing to do," Williams said. "Every time I have the ball at my feet I just feel in the zone."
On Thursday, Sept. 20 the team brought home "The Silver Brick," a symbol of the Hinsdale Central/LT rivalry that has gone on for years, varsity goalkeeper Mark Jareczek '19 said. The team was proud to win the silver brick in a 2-1 victory over the Red Devils.
"[Williams] has been a standout player in all of the games," Jareczek said. "It's got something to do with his leadership."
In past years, Williams has been exclusively committed to playing soccer on his club team, the Downers Grove Roadrunners, Williams said. He thought that since it was his senior year, he should play for his school team at least once in his high school career.
"It's definitely been different," Williams said. "It's been really fun being able to play with all of my peers and people that I've been at school with, but haven't really played soccer with until now."
The LT team practices approximately five to six hours each week, cutting into both social and academic commitments, Williams said.
"It's helped me to manage my time since I play so much that I'm required to do both academics and soccer at the same time," Williams said.
The amount of devotion and effort Williams puts into each day on the field stands out to Labbato as well, Labbato said.
"He's one of the hardest working players I've ever been around, and lots of kids work hard," Labbato said. "Ty does it with a smile on his face and a focus that is hard to match."
Jareczek and Labbato both agree that Williams' influence on the team has been unifying and beneficial to performance.
"When he plays well, everybody rallies behind it," Jareczek said. "The effort that he shows out there [encourages] everybody else to show that same effort."
For example, during a game on Sept. 18 against Oak Park River Forest High School, a talented team, Williams only allowed the offense to attempt to score three times which ultimately led to a 1-0 victory for LT, Jareczek said.
"[Williams' defensive skills] were insane against such a good team," Jareczek said. "The back line completely locked in back there."
Not only is Williams a leader on the field, but outside of soccer as well. During a tournament called the Pepsico Showdown, 13 players from all of the schools participating were nominated to be on the "All-Community" team, which highlights athletes that make a difference on and off the field, Williams said. Williams won the award.
"I'm the president of Best Buddies at LT," Williams said. "I love working with kids with special needs and give up a lot of my time to that, so [Labbato] thought that I would be a good candidate for that award."
It is evident that Williams is a prominent player in all aspects of life, Labbato said.
"How much he cares about things that he puts effort into [stands out]," Labbato said. "He cares so much about the charities he works with, he cares so much about the team, and he cares so much about how hard he works on the field."
About the Photographer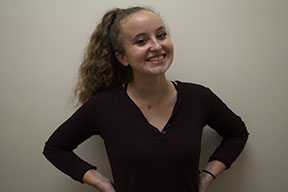 Isabella Sorice, Social Media/Photo Editor
"I don't have time to write a staff bio"