NBA Playoffs: Round One
Hang on for a minute...we're trying to find some more stories you might like.
After a long, grueling 82-game regular season, the 2018 NBA Playoffs is finally set to tip-off this Saturday, April 14. Numerous intriguing round one matchups await in each conference, and it seems as though the potential for upsets this year is higher than we've seen in recent seasons. Here is my breakdown on each first round matchup, including key player matchups and predictions.
Eastern Conference:
(1)Toronto Raptors vs. (8)Washington Wizards
Outlook: Although this is an eight vs. one matchup, these two teams enter the playoffs with similar playoff history. The Raptors have consistently been a strong regular season team, but they can't seem to put it together come playoff time. The same can be said for the Wizards, who have failed to make any deep runs in the playoffs, although they did take the Celtics to seven tough games last year in the Eastern Conference Semi-Finals. Both teams are bringing back virtually the same rosters from last year, looking to erase the "playoff pretender" label off their chests.
The Raptors have been out in front of the East for the majority of the season, thanks in large part to the dynamic backcourt duo of Kyle Lowry and DeMar DeRozan, who combine for nearly 40 points per game. However, Toronto has slowed down a bit as of late by winning only seven of their past 13 games.
Like the Raptors, the Wizards rely heavily on their backcourt as well with John Wall and Bradley Beal running the show. However, Wall has just come back from a knee injury that sidelined him for quite some time, making it tough to predict how cohesive this Washington team will look with him now back in the lineup.
Key Matchup: DeRozan vs. Beal. Two of the best mid-range players in the league will be going head-to-head, and both average right around 23 points a night. With Wall being out with his knee injury, Beal has stepped up for Washington in his absence while DeRozan has taken a major stride this year by becoming a better three-point shooter.
Prediction: Raptors in five games. The Wizards have the potential to make this a tight series, but they haven't shown me enough this year while the Raptors may actually be for real this time. Toronto's bench, which is far better than it has been in the past, will be the difference.
(2)Boston Celtics vs. (7)Milwaukee Bucks:
Outlook: Last week's news that Kyrie Irving will miss the remainder of the season makes this series a lot more interesting. Saying Boston relied heavily on Irving offensively would be an understatement, but with that being said Terry Rozier has done a phenomenal job of replacing Boston's All-Star point guard. More likely than not, the Celtics will have to look for their stingy defense to gain an edge in this series.
The Bucks have been back-and-forth all year long and come in with a 44-38 regular season record. There's no denying that they have a talented starting five, but a bench that is 28th in the league in scoring may very well be their downfall.
Key Matchup: Giannis Antetokounmpo vs. Jaylen Brown. We all know about the special player that Antetokounmpo is, but what Brown does on the defensive end for Boston at the young age of 21 years old is incredible. Watching these two battle it out down the stretch will be must-see TV.
Prediction: Celtics in seven games. I mentioned in the introduction that there is some serious upset possibility in this year's playoffs, and this series could be one of those upsets. However, two things make me want to take the higher-seeded Celtics. One is their head coach, Brad Stevens. Stevens truly is one of the best in the business and is one of the few coaches in the league that can actually turn out to be the deciding factor in a series. The other is the inexperience of this Bucks team. For how talented they are, they are still young and lack postseason experience.
(3)Philadelphia 76ers vs. (6)Miami Heat:
Outlook: The Sixers are the talk of the NBA right now; they come in on a 16 game win streak and are showing no signs of slowing down. Potential Rookie of the Year Ben Simmons and the outgoing Joel Embiid make this team a matchup nightmare, especially now with shooters like JJ Redick, Marco Bellinelli and Robert Covington to space the floor.
The Heat are no team to look past either. Erik Spoelstra has found the right formula in Miami and has his team ready to open some eyes. Goran Dragic sets things up for the Heat, scoring 17.3 points per game and 4.8 assists. Strong defensive play has also helped Miami throughout the season.
Key Matchup: Embiid vs. Hassan Whiteside. For those that have seen any Sixers/Heat games this season, you know that there is some definite bad blood between Embiid and Whiteside. Both have similar personalities and are of course great players, making the clash between the two awesome to watch.
Prediction: Sixers in six games. Philadelphia is undoubtedly the better team on paper and are playing better basketball heading into this series. I think the grittiness of Miami will give them some problems at first, but in the end I have the Sixers moving on to the second round.
(4)Cleveland Cavaliers vs. (5)Indiana Pacers
Outlook: This series features two teams that have had opposite seasons, at least when you factor in what was expected of them before the season started. The Cavaliers have had many unanticipated struggles and have grinded their way to a four seed, thanks to what I would call LeBron James's best season of his 15-year career (he has my vote for MVP). Despite the loss of Irving in the offseason, many people expected Cleveland to snatch a top two seed in the East, but nothing has come easy for them. The Pacers, on the other hand, are one of the more incredible stories of the league this season. A Paul George trade was inevitable at the start of last year's offseason, and what the Pacers were able to acquire in return (Victor Oladipo and Domantas Sabonis) was not only substantial, but maybe even better than George. Oladipo, a former number two overall pick, has elevated his game to a new level and is having one of the best season's that no one is talking about. He and the Pacers may not take down the Cavs, but this series could be closer than people expect.

Key Matchup: Kevin Love vs. Myles Turner. I know I talked a lot about Oladipo, but Turner is another bright spot on this new-look Pacers team. He and Love's versatility should make for a good matchup, both inside and outside the painted area.

Prediction: Cavs in six games. Another close series where I'm giving the edge to the higher seed. Indiana will certainly give Cleveland a scare, but in the end no one will stop James. I don't see "The King," who has made seven straight NBA Finals appearances, going out in round one.
Western Conference:
(1)Houston Rockets vs. (8)Minnesota Timberwolves
Outlook: The Rockets enter in with the NBA's best record (65-17) and are a popular pick to dethrone the Golden State Warriors in the West. The addition of Chris Paul has bolstered what was already a high-powered offense, and James Harden continues to shine. This Rockets team, which has also improved defensively, has what it takes to go far but continue to make us wonder whether they are truly capable of winning big games in the playoffs.
The Timberwolves secured the eighth and final playoff spot with a win over the Denver Nuggets in the final game of the season, ending a 13-year playoff drought in Minnesota. This team is talented, featuring two All-Stars in Karl-Anthony Towns and Jimmy Butler, making them a scary eight seed. However, the health and freshness of their stars is always something to look out for with Tom Thibodeau at the helm.
Key Matchup: Harden vs Butler. Two players at the same position with opposite skill sets. Harden, the gifted offensive machine, against Butler, the hard-nosed defender that has turned himself into a reliable offensive weapon himself. Much like the Antetokounmpo/Brown duel I mentioned earlier, this combo should feature some intense final-minute possessions where the two All-Stars go head-to-head.
Prediction: Rockets in five. I know the playoffs are a whole different animal, but Houston has won 65 regular season games for a reason: they are really good. Although this Timberwolves team won't go down without a fight, I don't see the red-hot shooting of the Rockets being stopped, at least in round one. Butler will give Harden fits at times, but the surrounding cast for Houston will show up and make a difference.
(2)Golden State Warriors vs. (7)San Antonio Spurs
Outlook: This series marks a rematch between the two teams that met in the Western Conference Finals a year ago. The Warriors swept the Spurs in that series after Kawhi Leonard went down with an injury in game one.
Golden State's 2017-18 season hasn't been exactly smooth considering the injury problems they have dealt with. In fact, they will be without Stephen Curry in round one due to a knee injury, which is a huge blow. The Warriors haven't looked the same without him and will need to find a way to advance without their sharp-shooting guard running the point. 
The Spurs are back in the playoffs for the 21st straight year despite getting only nine games from their superstar, Leonard. In his absence, LaMarcus Aldridge has put forward a stellar year, recording 23.1 points per game and 8.5 rebounds per game. No one knows for sure if Leonard will return at any point this season, but so far most signs are pointing towards no.
Key Matchup: Kevin Durant vs. Aldridge. There's a chance that Draymond Green gets the defensive assignment on Aldridge, but it's fair to say that we'll be seeing these two former Texas Longhorn standouts up against one another at least once, if not more. Both players can shoot the ball at a high level, making a back-and-forth shooting contest between the two a strong possibility at some point in the series.
Prediction: Warriors in five games. Assuming Leonard doesn't suit up, I don't see the Spurs having a chance against the Warriors, even without Curry. If the Spurs are going to pull of the upset, it would take a tremendous coaching performance from Gregg Popovich. However, Steve Kerr isn't too shabby on the sidelines either, making it tough to go against the defending champs here in round one.
(3)Portland Trail Blazers vs. (6)New Orleans Pelicans
Outlook: The outstanding backcourt of Damian Lillard and C.J. McCollum tell the story for Portland, who have been sizzling since the All-Star Break. The playoff narrative for the Blazers is, as it has been in recent years, they will go as far as Lillard and McCollum carry them. Surrounding pieces like Jusuf Nurkic and Al-Farouq Aminu could turn into X-factors for Portland if they up their game.
The Pelicans weren't expected to keep themselves in the playoffs once DeMarcus Cousins went down with a torn achilles, but Anthony Davis has been an unstoppable force on both ends of the floor. If the Pelicans are going to pull of this round one upset, chances are Davis will have to put up multiple 40-point outings.
Key Matchup: Lillard vs. Jrue Holiday. Lillard is the more capable scorer and is far more important to his team, but Holiday's role offensively has had to increase significantly as a result of the Cousins injury. It will be interesting to see if Holiday is able to slow down Lillard come crunch time on the defensive end.
Prediction: Blazers in five. Davis will single-handedly give the Pelicans a home victory, but that will be it for his team. Portland's backcourt is too much for a New Orleans team that doesn't exactly pride themselves on guard play.
(4)Oklahoma City Thunder vs. (5)Utah Jazz
Outlook: The Thunder's new big three of Russell Westbrook, George and Carmelo Anthony certainly had some growing pains early on in the year but have gotten better since. Westbrook averaged a triple-double for the second straight season and George is having one of the best shooting years of his career, but Anthony has seemed to be the odd man out. If they can find a way to maximize Anthony's output, the Thunder can be very dangerous.
The Jazz have had a similar season to the Pacers in the fact that their superstar (Gordon Hayward) left this summer, yet the team has found a way to clinch a solid playoff seed. The only difference between the two teams, however, is that Utah has done so in the loaded Western Conference as opposed to the more slim Eastern Conference. The wins have piled on for Utah as a result of their defense, which ranks second in the NBA in defensive efficiency. Rookie sensation Donovan Mitchell is doing what no one expects rookies to do, and that's carry the weight of his team on his shoulders. That's enough for me to call Mitchell my Rookie of the Year, even when he's up against the video game numbers that Simmons puts up in Philadelphia.

Key Matchup: Westbrook vs. Mitchell. Two of the most explosive point guards in the game going at it right here. If you compiled a highlight reel of dunks by point guards this season, these two would make up the majority of the footage. Should be fun to watch.
Prediction: Thunder in seven games. Sounds a bit crazy, I know, but there's something about this Utah team that tells me they won't go down easily. Quin Snyder has had his guys playing with a chip on their shoulder all year, knowing that they weren't expected to do this well. In the end, though, I think the talent and drive that Oklahoma City possesses will be a bit too much for them. The Thunder's big three has a lot to prove this postseason and will at least make it out of round one alive.

About the Writer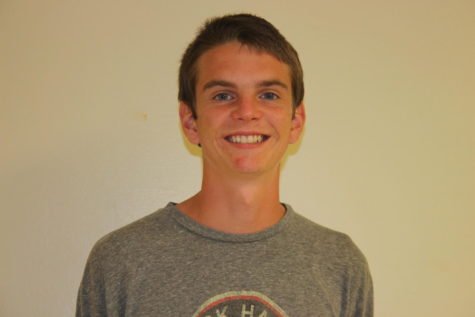 Luke Lusson, Sports Editor