Lions outlast Bulldogs in Chicago Elite Classic
Two familiar foes faced off in a not-so familiar environment on Friday, Dec. 1 as LT took on Riverside-Brookfield (RB) at the UIC Pavillion.
The matchup was just about as even as it could be coming in. Both teams entered after hosting their annual Thanksgiving tournaments and both were at 1-3, needing a win to jump start their seasons.
The Lions got off to a fabulous start thanks to sharp outside shooting and a press that forced tons of RB turnovers. At the half, LT claimed a 32-21 lead and showed no signs of slowing down.
It was the Bulldogs, however, who became the aggressor in the second half and made a run of their own. Accurate three-point shooting from senior Ryan Cicenas and junior Patrick Hanley was enough for RB to claw their way back into a game where LT lead by as many as 15. Cicenas scored 17 points and gave the Bulldogs a one-point lead with 15 seconds left by way of a tough fallaway jumper in the lane. That shot came right after Nolan Niego '19 buried a corner three for the Lions to give the team a 54-53 lead.
As LT huddled in a timeout with only 15 seconds left and possession of the ball, it needed to decide who to put the ball in the hands of. Enter Tyrese Shines '19, a three-year varsity player who had been able to score around the rim all night long. Shines drove to his left and put up a contested layup that fell short, but he was right there to grab his own miss and lay the ball back in. The basket came with only three seconds left and put LT back ahead by one.
LT would hang on to win 56-55 after RB's full-court shot attempt was no good. Shines lead the Lions with 18 points in a game where LT's offense showed great balance. The win for the Lions moves them to 2-3 on the young season and it dropped the Bulldogs to 1-4.
The game came as a part of the Chicago Elite Classic, a two-day event at UIC where some of the area's top basketball programs go to play. Talented basketball schools like La Lumiere, Morgan Park, Simeon and Whitney Young will all play their games today, Dec. 2 on day two of this six-year old event.
Next up for the Lions is a conference matchup at home against Downers Grove North (DGN) tonight at 5:00 p.m. It marks the first conference game of the season for both squads.
About the Writer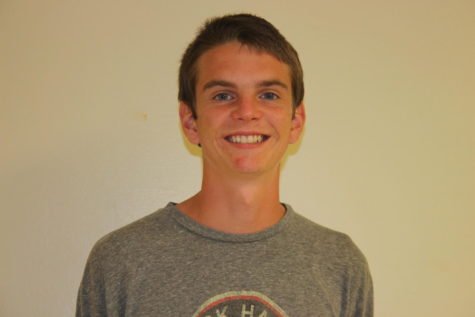 Luke Lusson, Sports Editor