Fantasy Football: Week 13 Start or Sit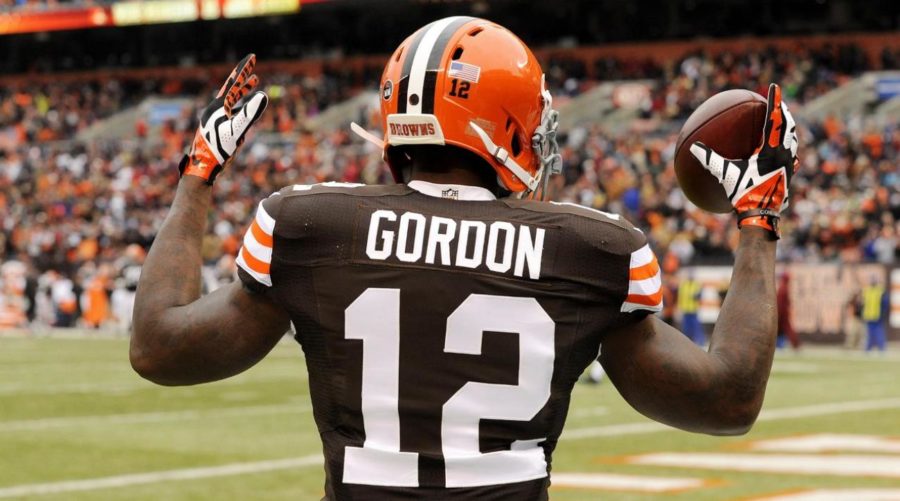 Luke Lusson and Grant Campbell, Sports Editor and News Editor
December 2, 2017
Tyreek Hill (Chiefs at Jets Sunday noon): Don't overthink this one. Although Hill has not found the end zone since Week 9, the fact of the matter is that he's one of the most explosive players in the league that has the potential to go for a boatload of points each week. The Jets have been a favorable matchup all year against opposing wide receivers, which helps out Hill's case as a starter even more. You definitely should start the speedy Hill this week.
Nelson Agholor (Eagles at Seahawks Sunday 7:30 p.m.): Agholor has been a reliable redzone target all season long for a Philadelphia offense that is absolutely rolling. However, if there's one place where the fun for an offense can come to an end, it's in Seattle. I think the Eagles offense will still be productive in this game, but I'm not that confident in Agholor playing a huge role. He is very TD dependent and to me, that sends bad signals for someone that is playing against a tough Seattle secondary on the road. Look for other options besides Agholor in Week 13.
Orleans Darkwa (Giants at Raiders Sunday 3:25 p.m.): It's always tough to put your trust in a Giants RB, but I'm on board with Darkwa this week for a multitude of reasons. First off, the Giants just made a quarterback change. Geno Smith in for Eli Manning means to me that the Giants may make more of an effort to run the football, specifically to Darkwa. Also, the Raiders have struggled against the run this season, so there's a good chance that Darkwa posts some of his best rushing numbers this week. Obviously, it's still a bit risky to throw him in your lineup due to the fact that the Giants may get down big early on in this matchup, but I still like the upside of Darkwa in this one. If you don't have two consistent weekly starters at the RB position, take a chance and start Darkwa.
Devin Funchess (Panthers at Saints Sunday 3:25 p.m.): It's time to stop thinking about Funchess and whether to start him or not. He's become the clear-cut number one WR in Carolina and has shown great consistency since the Kelvin Benjamin trade by hauling in at least five catches each of his past three games. His big stature and improved route running make him not only a redzone threat, but an early down threat as well that will see tons of targets from Cam Newton each week. In Week 13, he faces an improved Saints secondary on the road, but that isn't enough for me to say sit him. Start Funchess this week and the rest of the way.
Danny Amendola (Patriots at Bills Sunday noon): This New England at Buffalo matchup will be closer than most people think. Because of this, I like Amendola this week to have a sneaky good game. He has a lot of competition when it comes to gaining targets, but I think his third-down productivity will be key in this divisional game for the Patriots. Start Amendola in Week 13.
Mohammed Sanu (Vikings at Falcons noon): Sanu has quietly had a great season at wideout (and as a quarterback last week) for the Atlanta Falcons. His touchdown potential has made him a quality starter in most weeks, but I'm not in for taking the risk and starting Sanu this week against a quality Vikings secondary, even with the game being in Atlanta. The Falcons offense is starting to hit its stride, but the Vikings defense has been in its stride for the whole season. The chance of scoring a TD isn't enough to start Sanu this week.
Hunter Henry (Browns at Chargers Sunday 3:05 p.m.): Henry has been inconsistent this season, but he always has the potential to find the end zone for the Chargers. With the winless Browns visiting Los Angeles this week, Henry is a pretty solid option at the TE position. Start him.
Lamar Miller (Texans at Titans Sunday noon): It's been the same story for Lamar Miller all season long: low rushing numbers and a TD here and there to boost his fantasy numbers. In fact, his highest rushing yard total this year is only 75 yards – not too convincing for the Texans go-to running back. In reality, his only chance of putting together a great game against the Titans is if he finds the end zone at least once. I don't see that happening against a Titans run defense that has only allowed four rushing TDs all season. Sit Miller.
Devontae Booker/C.J. Anderson (Broncos at Dolphins noon): This season, I don't want anything to do with the Denver offense apart from Demaryius Thomas. This week is no different. If you have either of these two running backs, I'd sit them. Neither one has proven to be the workhorse in this offense and it's tough to judge how the carries will be spread out from game to game. If you own both and have to choose between the two, I'd give the slight edge to Booker in PPR leagues due to his passing down roles. Again, don't play either of these two backs if you don't have to this week.
Isaiah Crowell (Browns at Chargers 3:05 p.m.):  Crowell comes off a huge game on the ground last week against the Bengals, and now he's headed to Los Angeles where he will face a shaky Chargers Defense.  The only part of the Chargers' Defense that is undeniable is their defensive line.  Melvin Ingram and Joey Bosa are threats at the defensive end position that will stop any rushing attack.  With Duke Johnson as the primary receiving back for Cleveland, Crowell won't be getting anywhere on the ground.  Without a doubt you should have the struggling Crowell on your bench this week.
Demarco Murray/Derrick Henry (Texans at Titans noon):  The Titans are struggling to find a consistent RB this year.  Demarco Murray isn't the same RB he was last year, and Derrick Henry is still too raw to give him the whole responsibility as lead back.  However, I still think that Murray has potential to explode.  If I had to pick between the two, I would choose Demarco Murray to start in your lineup, and score 10+ points this week at your flex or RB2.
Demaryius Thomas (Broncos at Dolphins noon):  After a rough first start for Paxton Lynch, he sustained an injury.  Now, the Broncos' question marks at QB will continue.  The only thing that's not a question is the favoritism that both Trevor Siemian and Brock Osweiler show for the star WR.  Sure, Emmanuel Sanders is a great deep threat, but these two QBs love Thomas' reliability.  Against the Dolphins terrible secondary, I'm expecting WR1 numbers from Thomas this week.
Sammy Watkins (Rams at Cardinals 3:25 p.m.):  Watkins is still struggling to run away as the great receiver that he was drafted as.   Jared Goff has been nothing but spectacular in his sophomore stunt, but he and Watkins have yet to click.  Going against a strong Arizona secondary, I'm not expecting much from Watkins this week.  Bench him.
Jimmy Garoppolo (49ers at Bears noon):  The time has come.  Garoppolo is returning to Illinois, the state where he played college football.  There is certainly a lot of hype surrounding his 49ers' debut, and I'm buying it.  With Pierre Garcon injured for the game, I'm worried; but at the same time, Marquise Goodwin is still on the field making plays, and Bears safety Adrian Amos is out with a hamstring injury.  With the Pro Bowl safety out, I'm expecting a huge performance from Garoppolo.  If your fantasy team is lacking a QB, check out Garoppolo this week for a surprising performance.
Delanie Walker (Texans at Titans noon):  Though the Texans have great linebackers who can potentially shut Walker down in coverage, he's too good of a player to bench this week.  Walker will still be able to find openings in the middle of the field, and put the Texans D on their heels this week.  Mariota is still playing through an injury, so Walker still has a gun-slinger QB to deliver him the ball.  Start him at your TE this week for at least 11 points.  I'll be surprised if he doesn't have a redzone TD.
Robby Anderson (Chiefs at Jets noon):  Anderson has been quite the surprise this year.  There have been two back to back weeks of him putting up 20+ points.  I'm a little more hesitant to pull the trigger on him, given the team the Jets are playing.  But at the same time, the Chiefs look like they've burned out after their great start.  Josh McCown is playing like he's 25, and he's finding Anderson open downfield nearly every play.  Despite the strong secondary of the Chiefs, I'm still liking Anderson as a FLEX option this week.
Austin Ekeler (Browns at Chargers 3:05 p.m.):  You may ask yourself, who is Ekeler?  He's the backup to Melvin Gordon who had one good game.  Phillip Rivers asked his head coach who this guy was, and that should mean something.  I'm not saying that Melvin Gordon just lost his job, but look for Ekeler to be getting 10+ carries a game from now on, and catching a few more passes than usual.  Also, he's going up against the Browns.  The BROWNS… I'm buying high on Ekeler this week, and advise that you throw him into your FLEX position for at least 9 points.
Josh Gordon (Browns at Chargers 3:05 p.m.):  I never thought I'd see the day.  Josh Gordon is making a return to the NFL.  After all of his issues both on and off the field, he's finally struck the balance with playing and his drug habits.  Hue Jackson and the rest of the coaching staff have very high hopes for his first game back, and so do I.  The Chargers defense is lacking playmakers outside of their defensive line, and I think that the lack of tape on Josh Gordon is only going to help his return.  It may seem bold, but start Gordon at your WR1 this week.  Regardless of who's throwing him the football, Gordon is an explosive WR who when given an opportunity with the ball, is going to make something happen.  Jackson told the media that the team has "big plans" for Gordon in his return, and I'm expecting him to be targeted on the first passing play the Browns run.  Look out for Gordon in his return.
Marvin Jones Jr. (Lions at Ravens noon):  Marvin Jones Jr. has been sensational all year.  He's a great vertical threat for elite QB Matthew Stafford on a solid Lions team.  My concern for Jones this week is that he's going up against arguably the top secondary in the league.  Jimmy Smith will likely lock down Golden Tate, so Brandon Carr and Marlon Humphrey will be presented the challenge of shutting down Jones.  Both of them max out at 6'0, and safeties Tony Jefferson and Eric Weddle simply don't have the height or vertical that 6'2" Jones has.  Not to mention, Jones has a great vertical that will win most jump balls.  If the Ravens commit to silencing Tate, I expect Jones to have a solid game this week.  I would start him at the FLEX, but I'm reluctant to say WR2.