Fantasy Football: Week 11 Start or Sit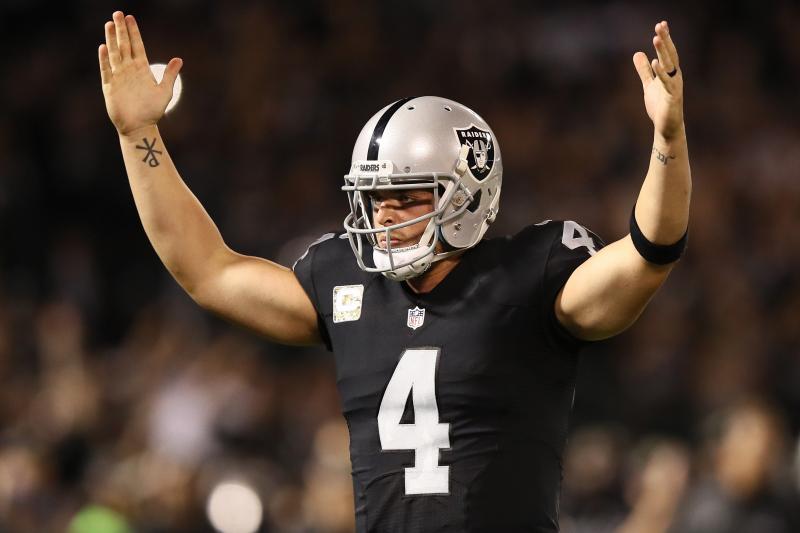 Luke Lusson and Grant Campbell, Sports and News Editors
November 16, 2017
Melvin Gordon (Bills at Chargers Sunday 3:05 p.m.): Gordon is coming off of a disappointing Week 10, only putting up 9 fantasy points. This is likely attributed to his backup RB Austin Ekeler scoring all TDs for the Chargers' RB's. If Gordon is going to bounce back from this disappointing performance, he'll do it against the Bills. After losing their run-stopping DT Marcell Dareus, he's poised to find gaps in the Bills defense. I'm reluctant to say he should be your RB1, but he should definitely be your RB2 this week. 
Desean Jackson (Buccaneers at Dolphins Sunday 12 p.m.): Jackson has only scored one TD this year, and it was against the streaky Arizona D. The one thing that has been consistent for Jackson has been his number of receptions. He has at least two in each game, and as many as six in one. After Cam Newton and his vertical offense obliterated the Dolphins on Monday night, you can't help but be optimistic about Jackson's chances this week. Throw him in as your flex. 
JuJu Smith-Schuster (Titans at Steelers Thursday 7:25 p.m.): JuJu is the most fun player to watch in my opinion. He has all the vitals to make him a great threat as a WR—speed, hands and great awareness—and against a Titans team that has a weaker secondary, it couldn't be more ideal. You also have to take this into account, Marcus Mariota is likely out for the game on Sunday. With Mariota out, I foresee the Titans offense struggling to maintain possession. If they struggle, they're putting more pressure on their mediocre defense to step up. For this reason, JuJu has the potential to be a WR2, but I would still throw him in at flex. 
Adrian Peterson (Cardinals at Texans Sunday 12 p.m.): Peterson is a very hit or miss RB, but if you own him, you may as well use him now. David Johnson is poised to return in a week or two, which will likely result in Peterson's production significantly decreasing. The Texans defensive line is exploitable with J.J. Watt out for the year, but Jadeveon Clowney can always be an intimidating presence, even for the veteran Peterson. Regardless of all of this, Peterson is a viable RB2 this week as the Cardinals' pass game struggles without Carson Palmer. 
Teddy Bridgewater (Rams at Vikings Sunday 12 p.m.): Yes, Bridgewater is officially active for this Sunday, but don't think twice about putting him in your lineup. Case Keenum finished last week as a top two fantasy QB, and the Vikings will likely keep the hot-hand in the game. Bridgewater would be a great acquisition on the waiver wire, but I don't see him getting much action on the field this week. Bench him. 
Evan Engram (Chiefs at Giants Sunday 12 p.m.): Engram is coming off of a solid showing against the Cowboys with just under 10 points. He has consistently been a great receiving threat, but the inconsistency that Eli Manning has been playing with this year raises a lot of questions for the rookie TE. Additionally, he's going up against a top three defense in the league, with an emphasis on their secondary and linebacker corps. I wouldn't pull the trigger on starting Engram on Sunday, unless you have no other TE. 
Ameer Abdullah (Lions at Bears Sunday 12 p.m.): The Bears defense is infamous for their aggressive playstyle and run-stopping front seven. Abdullah had a mediocre performance against an even more mediocre Cardinals defense last week. Against the Bears in Chicago, I would advise you don't have Abdullah anywhere near your lineup this week. Theo Riddick is becoming a much more viable option in a PPR league while Abdullah is becoming more and more insignificant. First bench him, then try to trade him. 
Kenny Stills (Buccaneers at Dolphins Sunday 12 p.m.): I know what you're thinking: who even is Kenny Stills. He may be the number 47 ranked WR this week, but I expect him to exploit the Buccaneers secondary in a big way. Against the Jets in Week 4, he put up two TDs. The Buccaneers short defensive backs won't only have issues in jump balls, but they'll have issues keeping up with the Dolphins receiving corps. If the Bucs focus is on shutting down Jarvis Landry and Davante Parker, Stills will have a good chunk of field to make plays for himself in man coverage. Stills is a great FLEX option for Week 11. 
Ravens D (Ravens at Packers Sunday 12 p.m.):  Rookie QB, two injured RBs for Green Bay? Yes, please. If the Ravens don't pick off Brett Hundley at least twice, I'll personally send a hate letter to Jimmy Smith. Due to the offensive struggles and injuries of the packers, coupled with the already highly touted defense of the Ravens, they're a no-brainer start this week.
Alfred Morris/Darren McFadden (Eagles at Cowboys Sunday 7:30 p.m.): After the reinstatement of Ezekiel Elliot's suspension, the Cowboys are facing a predicament at the RB position. They have two very capable RB's in both McFadden and Morris, but one of them is clearly going to be carrying the load. Morris will be the lead back for the Cowboys this week, and he's poised for a big game. The Cowboys still have a top Offensive Line, especially in regards to run blocking. To put Morris' production into numbers, I'd say his floor is at least 10 points, with a high ceiling of 19. 
Derek Carr (Patriots at Raiders Sunday 3:25 p.m.): When evaluating Carr, it's easy to look at his sub-par numbers and want to sit him on your bench. However, with a huge home matchup against the Patriots looming, I expect Carr to be on top of his game, especially following a bye week. Trust Carr and start him this week in what should be a shootout against a struggling Patriots secondary.
Keenan Allen (Chargers at Bills Sunday 3:05 p.m.): Since Week 4, Allen has failed to total more than 67 receiving yards and, more importantly, he has snatched only one touchdown grab all season. Aside from that, Allen faces a pretty solid Buffalo defense this week that I think will be eager to bounce back after getting scorched by the Saints a week ago. Look to start someone that has shown more touchdown capability than Allen in Week 11.
Kyle Rudolph (Rams at Vikings 12:00 p.m.): Despite all the quarterback changes, Rudolph has been pretty productive all season long, at least when compared to other fantasy tight ends. This week for Rudolph brings along an average matchup against the Rams, who have given up the 12th fewest points to opposing tight ends in ESPN leagues. Therefore, unless you have one of the few elite fantasy tight ends at your disposal, start Rudolph with no hesitation.
Jordy Nelson (Ravens at Packers Sunday 12:00 p.m.): It feels weird to even talk about whether or not Nelson should be started in fantasy, but with Brett Hundley under center that's what it has come to. In Hundley's three starts, Nelson has failed to accumulate more than 50 receiving yards and has no touchdowns. With no Aaron Rodgers, it's becoming tougher and tougher to trust Nelson as a fantasy starter. Throw in the fact that this matchup with the Ravens is a rough one and you sure have a bad recipe for fantasy output. Don't trust the young and inexperienced Hundley to effectively distribute the ball to Nelson in this game. Sit Nelson and hope that he and Hundley can gain some chemistry as the season rolls on.
Saints D/ST (Redskins at Saints Sunday 12:00 p.m.): Believe it or not, the Saints defense has been one of the best in the league following their two horrific performances to start the year. They have played a crucial part in the Saints current seven game win streak and will look to do the same in Week 11 with Kirk Cousins and the Redskins coming to town. The Washington offense has not been too scary for opposing defenses, yet injuries have made it tough for them to thrive just yet. With their star tight end Jordan Reed expected to make a return from his hamstring injury this week, I don't trust the Saints enough just yet to stop him and a healthy Washington offense. I know it's tough to argue against the strong numbers that the Saints defense and special teams have put up, but in my opinion fantasy owners are better off by looking for a better matchup.
DeVante Parker (Buccaneers at Dolphins Sunday 12 p.m.): Parker has been consistent in the games he has appeared in thus far, but has has yet to truly breakout thanks to only finding the end zone once all season. There's a good chance that touchdown drought comes to an end on Sunday, however, as Parker's deep play ability should come to light against a struggling Buccaneers squad. Start Parker and expect a big outing.
Danny Woodhead (Ravens at Packers Sunday 12 p.m.): Woodhead has a decent shot at playing in his first game since Week 1 this week and the Ravens could not be more happy about it. Baltimore has struggled mightily to move the ball down the field all season long, calling for Woodhead to make a big difference in this offense by catching passes out of the backfield. However, don't rush things with him on a week that has lots of solid running backs available to start. I wouldn't be surprised if the Ravens were careful with Woodhead if he indeed does suit up this Sunday. Therefore, sit Woodhead out in Week 11 and stash him for weeks to come.
Robert Woods (Rams at Vikings Sunday 12:00 p.m.): Out of nowhere, Woods has exploded for four touchdowns and 241 receiving yards in the past two weeks. Granted, these two outings have came against the Giants and Texans, whose secondaries rank towards the bottom of the NFL. This week, Woods will face a much tougher matchup on the road against a tough Vikings defense. To me, a continuance of the output he has produced the past two weeks is highly unrealistic and unless one of your starting wide receivers is on a bye, sit Woods in Week 11.
Alex Smith (Chiefs at Giants Sunday 12:00 p.m.): Smith has been a top-tier fantasy quarterback all season long, whether people like to admit it or not. His improved throwing ability combined with his running capabilities have produced outstanding numbers on a weekly basis. With the pathetic Giants next up on the schedule, expect Smith and the entire Kansas City offense to put up monster stats, at least for however long this game is somewhat competitive. Confidently slot Smith in as your starting quarterback for this one.
Isaiah Crowell/Duke Johnson Jr. (Jaguars at Browns Sunday 12:00 p.m.)? It has been difficult to decide between the two Cleveland backs all year and this week is no different. The Jaguars run defense has shown improvement these past few weeks and for that reason, I give the slight edge to Johnson Jr., who plays the passing down role for the Browns and has been fairly consistent this year. It's not the end of the world if you have to start Crowell, but I'm a bit more high on Johnson Jr. when it comes to this week.