Soccer strives for deep playoff run
After playing the first, second, fifth and eighth best teams in state, the varsity boys soccer team is off to a challenging start. As of Sept. 19, the team's record stands at 8-3-1.
"LT is always a top program so we always have high expectations," third year midfielder and captain Charlie Hall '18 said. "First of all, we want to win conference for sure; we did that last year and we think we can do it again."
This season's captains are Hall, fourth year goalkeeper Matt Vear '18 and second year defender and forward Eric Gradilla '18.
"[They are]  fantastic captains, they're motivational, they work hard, they do all the right things," varsity Head Coach Paul Labbato said.
Despite losing their top four goal scorers, the team has 15 returning seniors that have been playing together for awhile, so several players are good friends, Hall said.
"This year for sure we have more of a defensive dynamic," he said. "Last year was probably more attacking. We've kept our defense pretty much, so we're going to have to figure out how to score. That's the focus this year."
Most of the starting lineup was on the same club team over the summer, Lyons Township Soccer Club, where they competed at nationals in Texas. Their club success is one of the reasons they have such high expectations for the high school season and have gotten along well as a team, Hall said.
"We all have good chemistry and we get along," Vear said. "There's no person that doesn't fit in. We all work together."
The team is preparing excitedly for the game against Hinsdale Central tonight, Sept. 22 on Bennett field. Last year the team won the silver brick back after three years of losing it and should try to keep it again, Labbato said.
"We're just a really good unit," he said. "We've got a lot of big, strong athletes that are good soccer players and they've gelled early. I think this team has a potential of winning conference, and I think they'll make a decent run at the end of the year into the playoffs."
So far the leading goal scorer is Charlie Clarke '18, who usually plays defensive center mid, but has switched to a center forward this season. Additionally, Jonathan Gray '19 has filled in defensively because of injuries and has stood out, Labbato said.
"There's definitely been some going from up and down each season, it depends on the year," Vear said. "We can either start well or finish well. I think we have a lot more experience this year, especially with the defense."
The team lost their first game of the Pepsi Showdown on Sept. 9 to Streamwood, cutting them out of the tournament.
"We will look at that game as a lesson learned and use it as a feeling that we do not want to feel again," Vear said. "We will strive to be better so we don't have to be in that situation of defeat again."
While venturing toward playoffs, the team is working on solidifying their team dynamic.
"I like not only hanging around and meeting all the players, getting to know them, but certainly, trying to build a team for a short season and seeing how good we can make them," Labbato said. "I think that's the fun part about high school coaching, because it's a short season."
About the Writer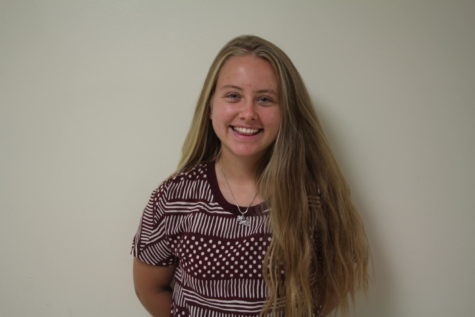 Georgia Dougherty, Pulse co-editor
Things I love include my bulldog Cow, chapstick, sneezing, saying the pledge of allegiance in Latin, and the Oxford comma. Things I don't love are vacuum...