Boys swim and dive begins season
Team looks to repeat success in new season; crucial swimmers, diver from 2016 state championship will return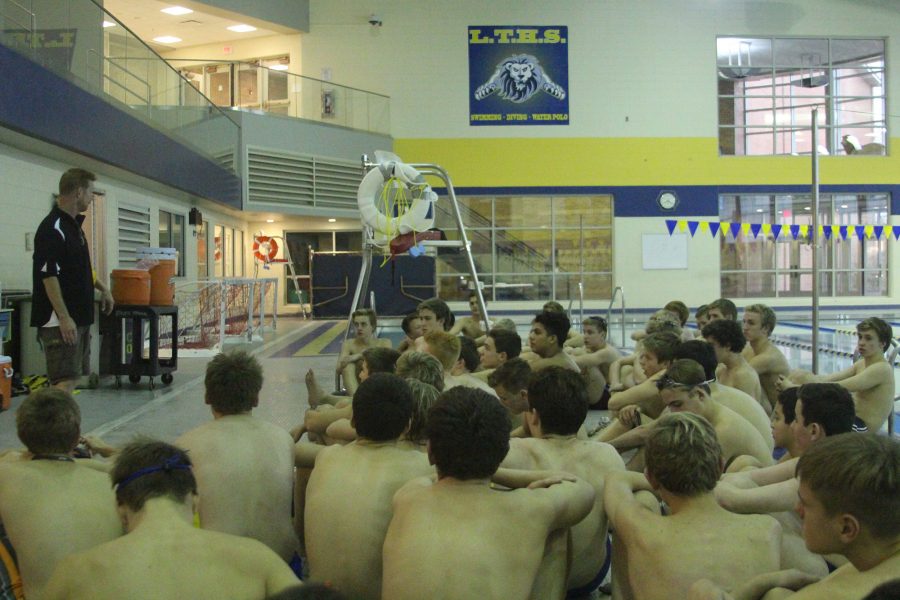 Last season on Feb. 26 and 27, 2016, the varsity boys swim and dive team capped off its state championship season by jumping into the pool with team members and team supporters.
"It was surreal to the highest extent," varsity boys swim and dive Head Coach Scott Walker said.
For this season, boys swim and dive is expected to be in the top five in state, he said. In terms of their approach for this season, the swimmers will change nothing, and have the same preparations as in years past. One factor in the team's success last year was its experience and leadership with the upperclassmen, Walker said.
"It was one of the first times ever that we competed in the sectional and state meet," Walker said. "The upperclassmen created a 'this is what we do' and 'this is where we belong' atmosphere."
Although the team consisted of many upperclassmen last season critical members return including swimmers Spencer Walker '18, Henry Claesson '18, Ryan Hammond '17 and diver Seamus Scotty '17.
"One thing that helped our team last year was depth," Hammond said.
One way top swimmers prepare for the season is by swimming for club teams during the offseason.
"All of the guys have been swimming super fast this offseason in club, and I'm excited to see what they can do and bring to the team," varsity swimmer Jeff Vitek '18 said.
Swimming club through the offseason provides LT swimmers with a seamless transition into the season, especially with the intense expectations for practices. Although the goal is intense, the swimmers are up to the task, Vitek said.
"We are all super excited and anxious," Vitek said. "We all know that the high school season means getting up early, four hour practices and forever sore muscles. Yet for some reason, I look forward to it every year."
Although the team's approach will not change, it will experience critical losses. With state competing seniors Weston Credit '16, Chris Phillips '16 and Ben Breitenbucher '16 graduating, the team will look towards returning state swimmers to account for the graduating points, Hammond said.
This task will be more manageable, given that LT will be returning four state finalists, Walker said.
One returner, Scotty, a dominant diver for the team last year, has just committed to dive for Indiana University.
"I'm super excited," Scotty said. "They are the top team in the nation this year. It's awesome to train with the best technology and best coaches available."
Swim and dive will also rely heavily upon the reigning Coach of the Year, Coach Walker. Walker received this prestigious award after winning the state title, a task that many thought would be impossible for LT, a team under the radar, Hammond said.
"Anything that happens to me is the reflection of who I surround myself with," Walker said. "There's three legs to the team triangle. The parents, the players and the coaches. Once you have this, you have a tendency to be uns