Athlete of the month: Vincent Zona '17
Part of a running dynasty, Vincent Zona '17 is an LT prodigy. An experienced team leader and a quality runner, he prevails as an invaluable member of the team. Zona was crucial to last year's second place finish at state and ninth place finish at nationals, and in what should be another successful year.
"I enjoy the team aspect, working with your teammates to reach a common goal," Zona said. "The past few years we've had a lot of success and we hope this year can be more of the same. We know what it takes to be successful."
A member of the cross country team throughout his four years at LT, Zona is considered one of the best, teammate Graham Kutchek '17 said. His teammates, especially underclassmen, look up to him, viewing him as a leader who motivates his team to do better. At meets, Zona physically provides a path for his team to follow, and it has deeply affected them.
"He's obviously the fastest runner; a lot of kids on the team aspire to be him," teammate Mitch Gardner '18 said. "He brings the whole team together."
Zona is extremely dedicated to his sport, spending approximately 25 hours a week running. He trains with the team everyday after school from 3:30 p.m. to 6 p.m. and on Tuesday and Thursday mornings. The team also practices together on Saturdays if there is not a meet, and Zona practices on his own every other Sunday. His hard work has led him to be chosen as a varsity captain along with teammates Kutchek, Alex Pall '17, Tyler Morales '17 and Dan Palmer '17.
Evidently, Zona's hard work pays off. At the competitive Peoria Invitational on Oct. 1, Zona placed second individually, carrying LT to a first place finish. He ran the three mile race in 14:22 minutes. A runner can be judged by his consistency receiving a time, and Zona repeatedly hits the mark.
"At meets it really helps to have someone up at the front," Kutchek said. "A lot of other teams don't have someone out at the front and we wouldn't be nearly as successful as we are [if we did not]."
Both Zona's father and brother Dominic Zona '14 ran cross country in high school and introduced him to the sport. Dominic was a senior when Zona was a freshman and participated in many of the same activities, so joining boys cross country was a natural step.
Zona also ran all throughout middle school at McClure Junior High School; however, his running didn't develop until high school, Zona said. Kutchek, running for rival Park Junior High School, was a chief rival in the cross country community until uniting forces on the same team at LT.
"Zona is a leader because he always makes sure to prepare the team at practice and before meets," teammate Danny Kilrea '18 said. "His enthusiastic attitude is contagious."
Kilrea, regarded as one of the best runners in Illinois and a member of the varsity team, has seen Zona run for two years. He has provided leadership that Kilrea wishes to emulate when he leads the team.
"I've seen the leadership styles between the two teams and a combination of both would be a good recipe," Kilrea said.
Being fully dedicated to running, Zona plans to run in college. He is currently considering the University of Michigan, Purdue University, University of Notre Dame, and Princeton University. Cross country's intense schedule absorbs most of Zona's time, yet he still manages to host a sports talk show on WLTL Tuesdays from 8 p.m. to 10 p.m.
The Illinois boys cross country state meet will occur Nov. 5 at Detweiller Park in Peoria. LT is a class 3A school, and will face top competitors Nequa Valley and Downers Grove North for the trophy, expecting to place near the top. The week following the state meet, LT will participate at a regional national qualifying meet to be held in Terra Haute, Ind. The top two teams from each region will move on to the national meet, where LT hopes to improve upon its ninth place finish last year.
"We've got a good team," Zona said. "We're trying to do some special things this year. Everyone's willing to work hard."
About the Writer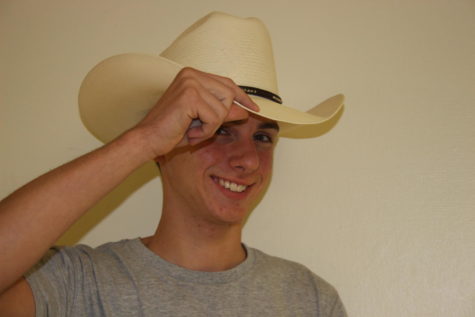 Brandt Siegfried, Online Editor
I am the humble keeper of this online establishment. Please adhere to Rules of Civility and Decent Behaviour In Company and Conversation by George Washington...