Boys Water polo takes state championship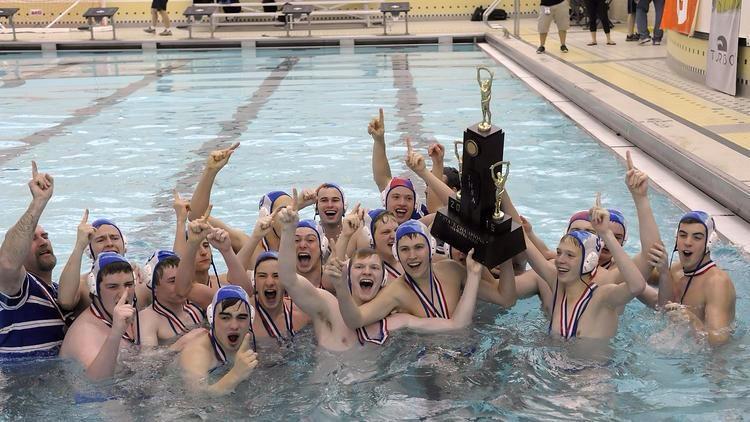 Garrett Ariana, Editor-in-chief
May 27, 2015
Despite seeing a packed crowd hugging one another while players and coaches alike jumped into the pool holding the state trophy, neither George Lundgren '16 nor his teammates could believe the six game playoff winning streak they had upheld with a 9-6 victory over Stevenson High School (SHS) to top off the state championship.
The game started off quickly with a 4-1 LT lead at the end of the first period. The Lions seemed to have it won until 2:45 left in the final period when SHS cut the gap to one with a score of 7-6. However, a momentum-shifting penalty save by goalkeeper Jack Linden '15 with 2:05 remaining set up a goal by Nathan Henderson '15 at 1:27 to just about seal the deal.
"From the start of the tournament we executed," Coach Doug Eichstaedt said. "We were able to dictate how we were playing and brought a lot of energy to our opponents. You saw that throughout the run."
The championship game was preceded by a 13-11 victory over Naperville Central in the state quarterfinal game followed by a 12-8 win over St. Ignatius in the semis.
The final game consisted of a hat trick for two of the leading scorers on the team. Lundgren added three to his total of 104 on the season, as did Sam Szczepaniak '16, while Henderson had two and Tommy Kaptur '15 had one.
"Good teams are well balanced," Eichstaedt said. "We were able to find our players who were in the best position to score and for the last three weeks we've been able to do that more consistently than in the season."
This championship has capped the finish to the second state championship in four years, with the other being in 2012 for the Lions. The two years in between did not see state appearances.
"It really hasn't even sunk in yet that we are state champions," Lundgren said. "It's been a goal for a lot of us since middle school but once again we have to refocus in for next year to repeat."