Brendan Swinehart and the shot heard 'round Chicagoland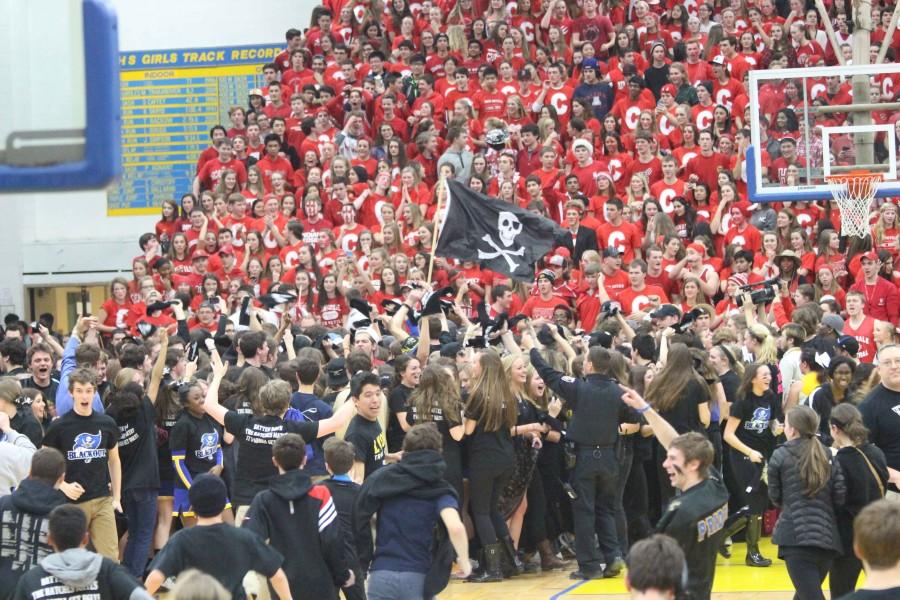 Bailey Blum, Assistant Sports Editor
February 18, 2015
As Brendan Swinehart '15 walked into school on Feb. 17, he was swarmed by classmates asking him questions about his new car and commending him on his appearance on nearly every news platform in the Chicago area. Flashback four days, and Swinehart had no idea the fame and recognition that lay ahead of him.
That Friday, Feb. 13, was LT's annual boys basketball "Blackout" game against rival Hinsdale Central, the most attended game of the year by LT students. During halftime, the Joe Rizza Ford dealership was offering a 2-year lease to a 2015 Ford Escape to anyone who made a half court shot. Throughout the game, students had the opportunity of entering a raffle for a chance at being one of three to take the shot. The ironic part about Swinehart being chosen was that he didn't even enter the raffle, he said.
"My mom bought the ticket for me," Swinehart said. "So when I was chosen, I had no idea what was going on, until I saw my mom cracking up in the stands and pointing at herself, showing to me that it was her who put it in."
Swinehart was the second student chosen to take the shot. The shot banked hard off of the backboard and went in, and within seconds Swinehart was sprinting towards the Hinsdale Central stands as hundreds of LT students swarmed the court behind him.
"It all went by so fast," Swinehart said. "It was definitely the coolest thing I've ever done."
It didn't take long for news outlets to catch on. From Feb. 14 to Feb. 16, Swinehart's shot had aired on ESPN, ABC, CBS, and Comcast Sportsnet, and garnered over 60,000 views on YouTube.
It wasn't all smooth sailing for Swinehart however, who amidst all the glory faced discrepancy regarding whether his foot was on the half court line and if he would actually receive the car. However, if the insurance company doesn't honor [the deal], then Joe Rizza Ford is going to honor it, Jason Brauer, one of the LT faculty members in charge of the Blackout game, said.
Swinehart will be receiving the car sometime at the end of the week or early next week once all of the details are sorted out with the insurance company and car dealership, Brauer said.
See the video below:
LTTV