Club Athlete of the Month: January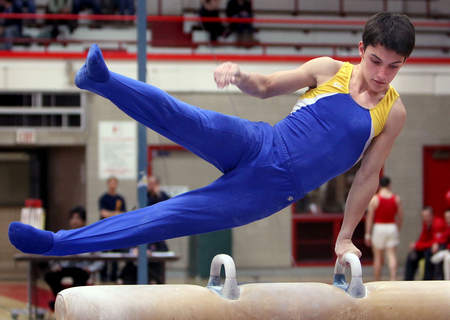 When he was 2 years old, Chris Rediehs' '15 mother put him into gymnastics because his sister was also doing it and in order to keep him occupied. One day, the coaches came up to his mother and asked if he would compete for the gym and ever since then Rediehs has been competing in gymnastics in some type of way. Today he competes for the club Aeriel Gymnastics in Downers Grove, where he's been for the past two years.
"I've been doing gymnastics my whole life, so it's like second nature for me to be in the gym practicing," Rediehs said.
In the sport, Rediehs does not specialize in one particular event. Instead, he competes in the all-around, in which he does all six events: floor exercise, pommel horse, still rings, vault, parallel bars and the high bar. Rediehs practices for these events by doing routines on all the events per day.
The club season has just started for Rediehs so nothing notable has happened yet, although he does hope to place in the top five at competitions in some events, especially floor and pommel horse.
At Aeriel, Rediehs hopes to keep making new skills for the events and also get stronger as a gymnast. However, Rediehs is not expecting to return to LT gymnastics this season in order to focus on club competition.
"I decided not to do LT gymnastics because club gymnastics is much more competitive. I want to make a college team, and most college coaches look at club gymnastics for that," Rediehs said.
Last season, Rediehs helped lead the LT gymnastics team to a third place finish at the state competition. According to LT gymnastics coach Kenneth Su, Rediehs' talent, competitive attitude and intensity are what set him apart from other competitors.
"He always gets attention from the other kids because of his talented skill set," Su said. "The other thing he does is that he motivates kids through his encouragement and his coaching."
At the state meet, Rediehs was able to lead the LT team through fifth place finishes at both the vault and parallel bars and also a third place finish in the all around event. Also, during his sophomore year, Rediehs finished sixth in the all around and third on high bar which helped LT achieve a fifth place finish at the state meet.
"Chris has been a great asset to LT gymnastics," Su said. "He's one of the greatest gymnasts in LT history. He did a great job for the team and the program and he was a really great ambassador of the sport."
Rediehs hopes to compete at Iowa, Nebraska, or Illinois. Rediehs said that all those colleges have good teams that he would be proud to compete on. Rediehs knows that college will be more competitive, and is looking forward to it when the time comes. Su also knows how competitive college competition can be, as he himself competed for the gymnastics team at the University of Illinois.
"I think he has the skills to compete at the next level, but everyone has the skills, so it's really a mental game," Su said. "If he can get through the grind, which I think he can do, I think he'll be successful."