Breakfast at Nellie's Review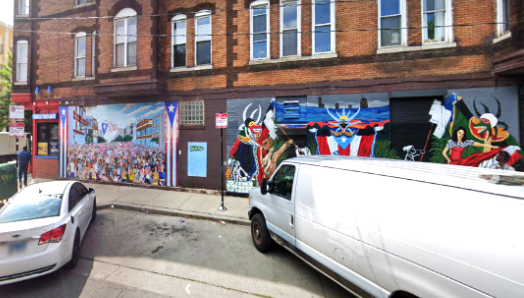 Imagine opening the door and being thrown into the sweet and spicy smells created from Puerto Rican and American breakfast cuisine. Nellie's Restaurant is just the place you need to experience the mix of culture with excellent food. 
As I walked by the restaurant, I noticed the murals that covered the outer walls of the brick building. They told the story of Puerto Rician history and were a way of expressing the culture of Puerto Rico through the well known street art used within the country.  I examined each one thoroughly, which was a gratifying experience because the restaurant allowed me to feel as though I was welcomed into their culture and transported me from a suburb of Chicago into the center of Puerto Rico.    
My family and I arrived at 10:30 with a reservation, which allowed us to walk right in and be seated. The restaurant served an option of either an all you can eat buffet or choosing one of the meals off the menu. After browsing the buffet, my family chose to eat there. It was priced at $8 for children and $23 for adults, drinks not included. I chose to fill my plate with french toast, waffles, and Pastelón de Huevo. The Pastelón de Huevo was a filling dish, which perfectly blended the starchy yet sweet taste of plantains with a sweet and savory egg casserole. These items displayed the multi-ethnic restaurant environment and the use of combinations of foods from both cultures allowing for exciting and unique food experience. 
Although I did enjoy all the dishes and the excellent blend of flavors, my favorite item from the whole meal was the Avena de Coco or coconut oatmeal, which was Nellie's signature item on both the menu and the buffet. It combined a mixture of flavors and was able to incorporate a sweet taste without being overpowering. By including cinnamon and soft oats it draws you in, filling your mouth with a rich yet comforting flavor. 
One disappointment of the restaurant was that although the servers were friendly, they struggled to be prompt in bringing the coffee and orange juice we ordered, along with closing our check. After all the food, I was stuffed and was ready to go, yet we had to wait an extra 15 minutes to get our waiter's attention and for them to return with the bill. 
Overall, I highly recommend Nellie's Restaurant if you're looking for authentic Puerto Rican cuisine combined with American breakfast in a friendly and welcoming environment filled with locals. It is open from 7 a.m. to 3 p.m. Monday through Friday and 9 a.m. till 4 p.m. on Saturdays and Sundays. Despite the slower service, the restaurant left me with great satisfaction due to its ability to make many different enjoyable dishes that were both filling and flavorful. If you also want to try this small treasure in Humboldt Park it is located at 2458 W Division St, Chicago, IL 60622.