"Head Above Water" makes a statement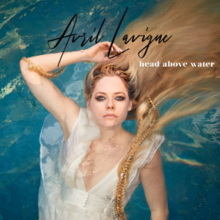 Isabel Tuisl, Website/Social Media co-editor
February 24, 2019
If I'm being honest, I don't really listen to Avril Lavigne. Before listening to this album, I only knew the childhood classics Girlfriend, Sk8er Boi and Here's to Never Growing Up. I don't even know how I knew those songs because it's not like I went on the computer and looked her up — again, not the biggest Avril Lavigne fan. But one day I found a new song she had released by accident.
I was scrolling through Instagram and stumbled across a beautiful song that was playing through an ad. As I kept watching, it was Head Above Water, Lavigne's first single off of her album, with the same title. Lavigne told Billboard that the song is about a night during her five-year break from the spotlight that she was in bed with her Lyme disease, and she thought she was dying. The song takes the listener through her thoughts and feelings during this tough part of her life that her fans don't usually see. The piece has a violin background throughout it, making the music as emotional as the lyrics. Despite Lavigne's acceptance of her death that night, she told Billboard, she managed to write a hopeful song with the lyrics "I won't let this pull me overboard/God, keep my head above water/Don't let me drown," and boy did she keep her head above water — literally. This is by far one of my favorite songs on the album. My other favorites are Birdie and Bigger Wow.
I noticed not only a few common themes throughout this album, but a storyline. The beginning of the story begins with Lavigne feeling trapped in relationships and life in general. Songs that are part of the beginning of the story include I Fell In Love With The Devil and Tell Me It's Over. Both of these songs are about romantic relationships that were toxic — one relationship with a person that wasn't good for her and another relationship that was on and off.
The second part of the story is about an explanation of these toxic relationships and her love for these people and/or how she doesn't want them to leave her. Souvenir, Tell Me It's Over, Crush, Bigger Wow and Love Me Insane are the parts to this story.
The last part of the story is the part where she breaks free — breaks free from all of the toxic relationships, people and feelings she has. Birdie, Dumb Blonde, It Was In Me, Goddess and Warrior all depict this image of Lavigne breaking free. In Birdie, she states "I ain't your prisoner/You can't lock me up no more."
Overall, I thought this album was a statement in Lavigne's career, and it will only go up for her from here. I can see a lot of people liking the album because of the catchy sound throughout. However her music is just not for me. The songs sound too pop for me, and her voice isn't my favorite. Though I would not personally go back and listen to this album, it wasn't the worst album I've ever listened to, and the songs were enjoyable.