Catchy and Cuban: Camila Cabello's debut album dazzles
After parting with famous girl group Fifth Harmony about a year ago, Camila Cabello has finally released her first solo, self-titled album. While she has worked with numerous other artists on features and singles, the album Camila is her first exposure to the world as a solo artist. Cabello has already had a taste of fame from her time into 5H, but this album had the potential to boost her career, or leave her in the dust +with her leftover fans from past girl-group success.
I was pleasantly surprised by Camila. After her single, Crying in the Club, did bad on the charts, this was her fresh start, and she delivered. While most of the songs follow a basic, formulaic pop structure that we see most on the radio, there is still a variation in certain songs; the pop beats intermixed with differing styles and tempos add depth to her music.
Cabello utilizes different genres to shape her debut record; Reggaeton and Latin (an homage to her birthplace of Cuba) influences are clearly visible in songs like Inside Out and Havana, making them instant dance beats for summer. The addition of heartfelt piano ballads (Consequences) and acoustic tunes (Real Friends and All These Years) help to mellow out and neutralize the upbeat songs, and add balance to her album. Adding the different styles adds a uniqueness that many pop albums lack nowadays.
Her vocals remain rather stagnant throughout the album, with the only dramatic change in tone being the high pitched, breathy vocals in the pre-chorus of Never Be the Same. However, those same breathy vocals can sometimes verge on grating. After years of being groomed into stardom by Fifth Harmony, she knows how to stylize her voice into a more mature version than her 20 year-old self would let on. Thankfully, her voice blends well with the chosen instruments, especially on piano songs such as Something's Gotta Give.
The most basic songs on the album would arguably be Into It and In the Dark. Every song on the album is both repetitive yet catchy, but these two more so than the others. I was surprised to find out that neither were released as singles, seeing as they were both so pop-oriented; I could definitely see them on Billboard's Top 100. To add, She Loves Control samples the same formulaic pop elements we see in every song on the radio: electronic backgrounds, a consistent drum beat, and duplicative lyrics.
However, where Cabello falls short is her songwriting. The downfall of being a pop artist is sacrificing quality lyrics for what will sell as the next top bop, something we hear on almost every song on Camila. There was an opportunity for deeper meanings on a few pieces, but she and her team of writers just missed the bar here. From using overdone phrases ("Loving you was sunshine" from Consequences or "All of the things, I wanna do to you is infinite" from Into It) to the played out metaphor of comparing being in love to doing drugs ("Just like nicotine, heroin, morphine/Suddenly, I'm a fiend and you're all I need" from Never Be the Same), her lyrics don't match the spark heard in the instrumentals. Furthermore, all songs except for Real Friends focus on romance, which is a shallow and overdone theme to focus on, especially in an industry that is growing deeper and evolving more every day.
At only 20 years old, Cabello definitely has room (and time) to grow, but Camila was a great jumping-off point for her solo career. Her album is great for singing along to in the car with friends, and serves as good background music for other activities, but I would pass on giving this album a listen if you seek unique, hidden lyrics and instruments.
About the Writer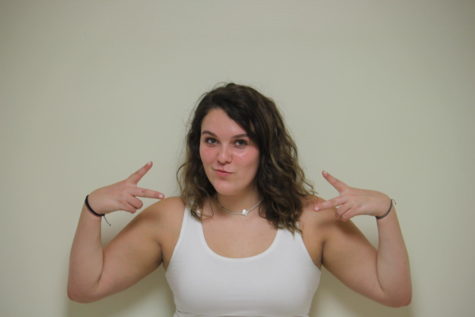 Camilla Breen, Pulse co-editor
Senior. Co-Pulse editor. Cheez-it enthusiast.

Twitter: @c_breen125