Q & A with a French exchange student
Hang on for a minute...we're trying to find some more stories you might like.
Between Feb. 18 and March 1, 22 students will be staying with LT families as part of LT's biannual French exchange. Charlotte Racine is one of the students participating in the program. Answers have been edited for length and clarity.
Q: Why did you choose to participate in the program that allowed you to come to the U.S.?
A: I have already been to the U.S., and I loved it. I also did another exchange in Germany and it was cool. I have never been to Chicago, and my friends from Marseille who have loved it, so I chose to come.
Q: How long have you been studying English?
A: I have been studying English since I was 11.
Q: Why do you think the study of global languages is important?
A: I think English is the most important language to learn because we can't have a job without using English; everybody around the world speaks English.
Q: Has anything about the U.S. surprised you?
A: The height of the buildings. In France, we don't have buildings that tall. Also, there are many McDonald's locations. In Marseille, we only have two or three. There are also a lot of tourists in America. There are a lot of activities to do here too.
Q: What do you think is the biggest difference between France and the United States?
A: The mentality of the people. They are very different. In the U.S., they are very open to other people and their stories. In France, we tend to judge others more before meeting them. Also, the size of the city. Everything here is bigger than in France, especially the glasses and the burgers. When we get a small burger here, it is the same as a large in France!
Q: How is LT different from your school Notre Dame de Sion?
A: It is bigger. The way the day is organized isn't the same. You have the same classes every day, here. In France it isn't like this. For example, on Monday I have math, English, and I have two hours of tests in the morning. In the afternoon, I have Latin. However, on Tuesday, it changes.

About the Writer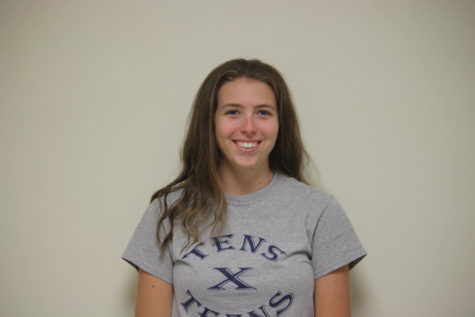 Taylor Schmitt, Website/Social Media co-editor
I'm a Co-Web/Social Media editor for the LION! When I'm not posting on the website, you can usually find me in the Reber Center acting or searching...