Smallcakes provides big surprise
After first hearing that Western Springs would be gaining a new cupcakery in the near future, I was instantly willing to try it out. A simple peruse of their website garnered my attention due to the multitude of flavors offered, but I was eager to see if the cupcakes lived up to the hype. Smallcakes, a cupcakery that garnered national attention with appearances on "Cupcake Wars", was actually deceivingly difficult to find; their Naperville location is sandwiched in a strip mall, with a small storefront. Seeing as their Western Springs location has not opened yet, we made the trek out to Naperville to taste-test the cupcakes. However, the lavish flavors and quality made the trip worthwhile.
Upon first arrival, I immediately noticed how small the store actually was. It had a neat, clean interior, but no seating- something I was hoping there would be. Tiers of neatly organized, extremely glitzy cupcakes greeted us from behind the counter, accompanied by a smaller case of ice cream flavors that looked just as delicious as their cupcake counterparts. There were also a few gluten-free cookies available at the counter, as well as mini cupcake treats for dogs, which is automatically a plus.
I decided to order one classic flavor, "Vanilla N Chocolate," (3.50) and one of their more unique options, "Cookies N Cream," (3.50). One thing I can easily say is the actual cake portion steals the show. Despite the conventional flavors of chocolate and vanilla (the frosting is where all the uniqueness happens), they were remarkably fresh, considering my friend and I went at 7 p.m. In my opinion, the cake was the best part about the experience.
Out of all the cupcakes we tried, my friend and I decided that none were too dry or crumbly; each was dense and rich in their own respects. While the specialty flavors were more visually interesting, Smallcakes has nailed the recipe to a perfect classic cupcake.
However, the frosting was a different story; I quickly realized that the simpler the cupcake was, the better. In general, the frosting was overpoweringly sweet, and there was too much of it to properly enjoy each cupcake. This was especially true of all the 'wacky' flavors. I found that the bolder flavor options lacked actual quality and richness that the classic options seemed to have.
My friend sampled a specialty cupcake, "The Mudslide," (3.50) which is only available for a certain day out of the month. We immediately noticed that there was a lot going on in this single cupcake– a mountain of chocolate frosting, a caramel swirl above it, and chocolate shavings. The caramel overpowered the other flavors in the cupcake and was extremely sugary; attempting to take a single bite proved to be a challenge. The cupcakes are deceivingly large, and you definitely need to be sitting down to avoid getting crumbs on yourself.
Nonetheless, the classic cupcake options, like plain vanilla or chocolate, were definitely the better choices. The specialty flavors ended up being a little bit of a letdown, but they are perfect for someone with a major sweet tooth; if you combine that with the other flavors to try, there are options for everyone here. While not open yet in Garden Market, Western Springs, Smallcakes (4710 Gilbert Ave. Unit 53, Western Springs 60558) is sure to be a hit, especially with its proximity to SC as a quick stop to cure an after school craving.
Rating: 4/5
About the Writer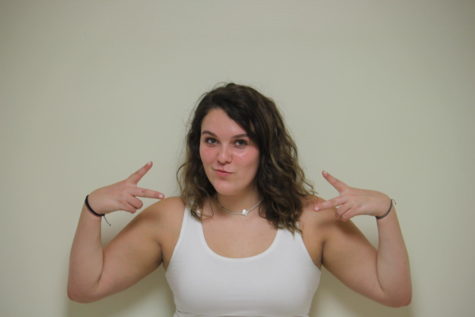 Camilla Breen, Pulse co-editor
Senior. Co-Pulse editor. Cheez-it enthusiast.

Twitter: @c_breen125