Best Buddies prepares for Holiday Party
Twenty six days after their bowling party, the Best Buddies club is preparing for its next party: the Ugly Sweater Holiday Party. This will include an ugly sweater competition and cookie decorating in the SC Corral on Dec. 8.
"Our November event was bowling, and that was a hit," Best Buddies officer Lizzie Scotty '19 said. "Our holiday party is always really fun, too. A staple at our parties is music because the buddies love to dance."
So far Best Buddies has had a swim party with the girls swim and dive team, a match mixer in the SC Corral, a Halloween party on Oct. 26 and the bowling party on Nov. 12, head sponsor and paraeducator Julie McDermott said.
"It's a really unique friendship that you get to have," Scotty said. "You're always laughing because the buddies are so fun to be around, the club is an awesome group of people, and it means so much to the buddies. It's such a great organization to be a part of."
After all the Best Buddies sponsors and officers resigned or graduated last year, the staff members for the club are mostly new to their leadership positions, McDermott said.
"We're still trying to get some things organized," Scotty said. "It's new for all of us so we don't have anything to compare it to. It's been super chaotic and stressful getting everything up and running."
This year there are 135 members of Best Buddies and 35 buddy pairs, Best Buddies President Abby Carlson '18 said. A pair is an LT special education student who is matched with one or more LT general education student.
"I love matching the general education kids up with their buddies," McDermott said. "One of my divers said that she doesn't have to worry about this friendship because in this friendship they don't get mad at her, they don't judge her and they don't peer pressure her; it's a friendship she can just be herself in."
After the Holiday Party, Best Buddies has five more events, ending with the Best Buddies Friendship walk May 6 at Brookfield Zoo.
"Best buddies has given me an amazing high school experience," Carlson said. "It's shaped my four years at LT into something I never thought it could be. I've met some of my best friends in Best Buddies. I strongly encourage others to get involved."
About the Writer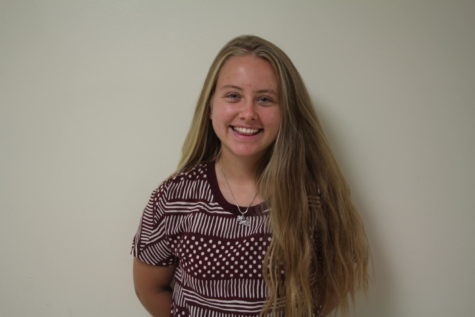 Georgia Dougherty, Pulse co-editor
Things I love include my bulldog Cow, chapstick, sneezing, saying the pledge of allegiance in Latin, and the Oxford comma. Things I don't love are vacuum...