Musician plans to release album
Rhyan Komsthoeft '18 just finished performing her solo at The Jam Lab when the chief recording engineer of the studio, Colin Peterik, approached her and asked her to record music with him. She happily agreed, and this seemingly small interaction kickstarted the opportunity of a lifetime for Komsthoeft.
"I didn't really ever think about pursuing music as a career until I was approached by Colin," Komsthoeft said. "He asked if I wanted to record with him, and of course I said yes. He's really helped me a lot throughout the years."
Komsthoeft has been involved with music ever since she was a child. She is very experienced with piano, ukulele, harmonica, and vocals, and has been playing piano since kindergarten, she said.
"I realized music was something I really liked to do," Komsthoeft said. " It didn't get serious until high school, but it's always been a huge hobby for me. I never thought I was good enough to keep pursuing music."
Despite working with Peterik to release a potential album, she does not want to develop a career solely in singing and songwriting. She plans to major in music therapy and procure a profession in that field, Komsthoeft said.
"Obviously, I have to be realistic," Komsthoeft said. " I know it's hard to make it, so that's why I want to do music therapy, but hopefully perform places on the side. I'm trying my best to continue a career in music."
Peterik works with Komsthoeft to record and edit original songs in his studio. Most importantly, he is a driving force in building connections for her future and encouraging her to be the best she can be, she said.
"She is very easy to work with and takes direction really well, which is important." Peterik said. "But she also isn't afraid to add her own flair and go one step further. I have no doubt that she will be successful in music, if it's the route she ends up choosing."
Komsthoeft records all her own instrumentals for each original song in the studio. A typical day involves a two hour brainstorm session at the beginning, followed by a meeting about next steps for her album. From there, she and Peterik record the instrumentals of a song. Afterwards, they begin recording vocals, and edit it all together to have a rough track of a song. They spend nearly an hour and a half on each part of the songwriting and recording process, Komsthoeft said.
"I don't think about it [the process] being hard," Komsthoeft said. "I love doing it, so it doesn't feel like a chore. Music is definitely my biggest passion, and I'm lucky that I was able to discover it from such a young age."
To gain ideas for her songs, Komsthoeft uses situations from real life to inspire her lyrics. Whether it be something from her life or her friends', she uses it to her advantage for a realistic feel to her lyrics. Practicing daily is another way she gets inspiration, she said.
"I practice every day." Komsthoeft said. " Whenever I have downtime, i'm always sitting behind a piano, writing, whatever helps me, even if it's just for 20 minutes."
About the Writer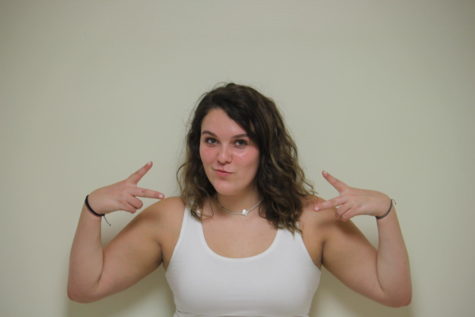 Camilla Breen, Pulse co-editor
Senior. Co-Pulse editor. Cheez-it enthusiast.

Twitter: @c_breen125