Speaker educates LT staff on gender development
Position Statement: The LT administration has made a positive impact on the learning environment at LT by educating the teachers and staff on topics regarding gender identity.
For the purpose of creating a climate at LT in which every student feels a sense of belonging, Hadeis Safi from Lurie Children's Hospital was invited to speak to the LTHS faculty and staff regarding the topic of gender development. This year LT has made it its mission to honor the emotional and social well-being of students which includes supporting students who are navigating through their own gender development process.
Safi took time to educate and further the staff's understanding of pronouns which is key in showing respect for one's gender identity. He intentionally gave the staff time to practice talking through theoretical scenarios featuring students who have non-traditional pronouns. Safi also let the staff know that it is okay to ask someone what their pronouns are and if they make a mistake when expressing one's pronouns, to apologize, correct themselves and move on. The staff's knowledge regarding the topic of pronouns will greatly benefit the relationship between teachers and students at LT. We applaud LT for making this experience available to the teachers and faculty.
A common misconception regarding gender identity is that it is what someone's sexuality is. Safi clarified to the LT staff that sexuality is who someone is attracted to and gender identity is who they are. Safi also covered ways in which the staff can support transgender and gender expansive students. In a survey done by the Human Rights Campaign, 62% of the LGBTQ students that particpated reported experiencing LGBTQ-related discriminatroy policies or practices at school and 70% responded that they had heard negative remarks about sexual orientation or gender expression from teachers or school staff. Because of statistics such as these, it is important for school staffs to have discussions and be given presentations by experts regarding gender identity in order to work towards providing a safe environment for all students at school. It is proven that having one supportive adult cuts the chance an LGBTQ+ youth will attempt suicide by 40%, according to the Trevor Project. Safi shared with the LT staff appropriate ways to support a student if they were to come out to them or the class. He discussed that staff members should always take the student's identity and expression seriously and to not disclose someone's identity without their consent. If a student were to come out to the class, Safi suggested that the teacher should keep language simple and affirming, as well as remind the youth that it's okay to be curious but it is not okay to ask overly personal questions. We applaud LT for inviting an expert to share statistics that put the importance of supporting LGBTQ+ students into perspective and for educating the staff on how to support students who are navigating through their own gender development.
Everyone should have the opportunity to feel safe and understood in their community. By allowing people to have a conversation about their identity in a safe place non-existent of fear or judgment allows for a positive experience for the entire community.
About the Writer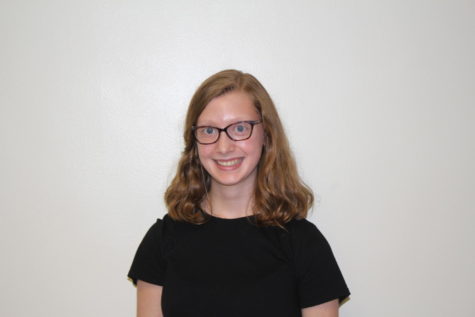 Sophia Schultz, Reporter
The only one who gets my jokes is my dog