Mexican restaurant opens in Western Springs
Mexican food is my all-time favorite, but it's hard to find good, authentic restaurants in the area. When I heard Guac N Tacos was opening in Western Springs, I naturally had high expectations. With some exceptions, I was truly satisfied.
Guac N Tacos recently replaced an old restaurant, Solstice, at 800 Hillgrove Ave. in Western Springs and is open Monday-Saturday from 9 a.m. to 9 p.m. The first thing I noticed was how small the space was. I went at 7 p.m. on a Monday night and it was about half full, so I can't imagine how packed it gets on the weekend or during lunchtime. Besides that, the interior was very cozy and neat. It followed a light brown, yellow, and white color scheme with a brightly colored and large portrait of Frida Kahlo on the back wall. The entire menu is displayed on a board behind the counter where customers walk up to order.
The menu consists mainly of a variety of tacos and other specialties like quesadillas, burritos, nachos and other sorts of salads and bowls. Their menu includes sides such as guacamole or salsa with chips, rice, beans, among other things. Their beverages all come in bottles which make them a little more expensive than at other places.
I first ordered their guacamole and chips which, at $6.60, was fairly shocking considering I've gotten more for much less at other authentic restaurants nearby. However, they were practically perfect. The guacamole was a little salty but not overpowering, which I loved. The chips themselves were much thicker than the average Mexican restaurant, but I actually enjoyed them more because of that. I also ordered a pineapple flavored Mexican soda for $2.70. I had never seen it before, so I thought it was a unique addition.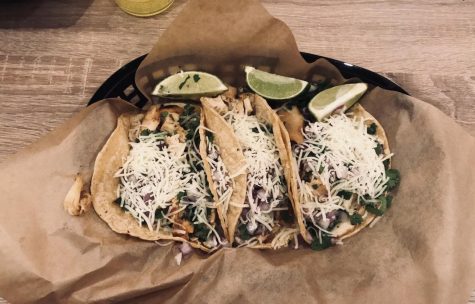 I also ordered the grilled chicken tacos with cheese for $10.05. I wondered why it was a little pricey until I realized that they charge 60 cents to add cheese per taco, which I thought was unusual. When it arrived at our table, I was very pleased with the overall orientation because it was very neat, and nothing was falling out. However, the grilled chicken was a little dry and didn't have a lot of flavor to it.
My two other friends ordered the nachos for $7.20 and the cheese quesadilla for $6.95. I tried a bit of each and both were much better at their price point, unlike my tacos. The nachos were warm when they came out and didn't have too much of the toppings. They primarily covered the middle of the plate, which allowed us to grab the chips easily without having to dig around in the toppings. The quesadilla had four triangle slices and didn't skimp out on the cheese.
The service was good and our food arrived very quickly even though there were many other customers there. It seemed that only two waitresses were working. Despite prices being on the higher side, most of the food exceeded my expectations, and I would love to go back. If you're looking for a new Mexican restaurant to add to your list, I would definitely check out Guac N Tacos.
Paws: 4/5