The 1975's "A Brief Inquiry Into Online Relationships" review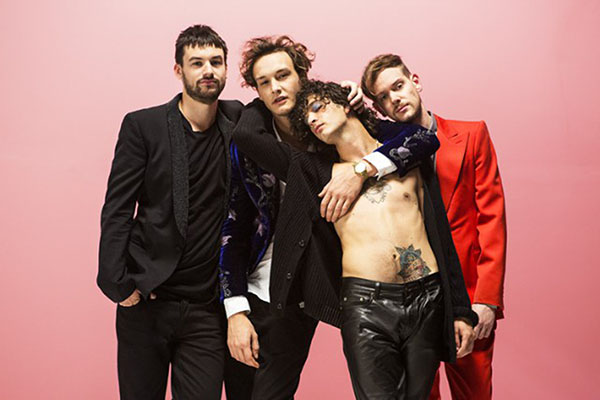 Listening party (Isabel): On Nov. 30, the official release date of The 1975's "A Brief Inquiry into Online Relationships," listening parties occured in places all over the nation. Chicago's party took place at 7pm. at Shuga Records (1272 N Milwaukee Ave in Wicker Park). When my friend and I entered the record store, it wasn't too busy; just a few groups of grunge kids ready to expose their virgin ears to The 1975's third studio album. However once the clock struck 7, the store was packed like sardines.
Even though I couldn't really hear the music at all for the whole duration of the event, it was still tons of fun just being in the presence of so many people who listen to this band's music for the same reason; to feel. Although the album had many tracks about situations that I couldn't relate to, like drug abuse, it still left me sobbing by the end of it. Due to being unable to hear the music because of all the chatter, it wasn't until I was in the comfort of my own home, on FaceTime with Camilla, that I listened to the album and heard it clearly for the first time.
While the album was playing at the record store, people were singing, dancing and taking pictures at a photo booth that was set up with exclusive posters (we each got one and they were only available at the listening parties) and silver balloons that read '1975.' Towards the end of the night, my friend and I were asked by a worker if we wanted to be in a video that The 1975 was going to see, and possibly post on their Instagram with the rest of the fans at the other listening parties around the world. We introduced ourselves, gushed about our love for their music and talked about how we met and bonded over them and eventually became friends because of an extra ticket that one of us had to their performance at 2017's PIQNIQ.
Aside from the fact that all I could hear at the listening party were people's side conversations, it was a brilliant idea to bring people of all ages, backgrounds, cultures, etc., together right before the holidays to celebrate something truly magical: The 1975.
Album review (Camilla): At first glance, the title "A Brief Inquiry into Online Relationships" may confuse the average listener. Take a look into the song titles, and you're even more confused than before; who names a song "The Man Who Married A Robot?" The only answer I have for you is The 1975, that's who.
The Manchester-born quartet released their third album on Nov. 30 and held listening parties all over the globe. Led by frontman Matty Healy, the band has undergone many changes in their appearance and sound since their start in 2002. "ABIIOR" is the new chapter in their book of eras. Their change follows Healy's release from rehab earlier this year, where he fought heroin addiction. This change in character is evident in both their music and aesthetics, where Healy looks and sounds much happier and healthier, a welcoming change from the grunge, indie rock aesthetic that dominated their 2013 self-titled album. This positive change is reflective of what the world needs now: hopeful, self-aware anthems in the face of adversity and rapid technological change.
Though they have come a long way since their humble beginnings, they still maintain their distinct sense of self on "ABIIOR." Songs like "Mine" or "Sincerity Is Scary" are reminiscent of their older jazz and gospel influenced songs, while "It's Not Living (If It's Not With You)," "Give Yourself A Try" and "TOOTIME" act as their upbeat synth and guitar anthems we're used to hearing. Track one, "The 1975," is a staple that appears on each album, restructured each time to set the tone for the album. This time around, the auto-tuned voice perfectly sets listeners up for what they are about to hear: an introspection into the 21st century, both globally and personally, complete with auto-tuned robotic voices and critiques of the digital age.
The whole album centers around themes of the 21st century: love, global issues, technology, and more. The album's pinnacle (and attestment to the overall theme) comes in the form of the song "Love It If We Made It." Upon first listen, the lyrics are hidden underneath booming drums and a beat that sounds like a clock, but upon further investigation, the lyrics actually discuss refugee crises, race issues, climate change and Donald Trump. This style of hiding deeper lyrics underneath a deceptive layer of synth, upbeat music has become a staple for the band; songs like "It's Not Living (If It's Not With You)" and "I Like America & America Likes Me" are incredibly poppy and electronic, but the lyrics are actually about heroin addiction ("And all I do is sit and think about you/If I knew what you'd do/Collapse my veins") and gun control ("Kids don't want rifles, they want Supreme/No gun required!")
To balance out this electronic-synth based music, The 1975 also includes a variety of slower songs that highlight a different instrument each time. Slow, piano and trumpet ballad "Mine" sounds like it's straight out of a La La Land fever dream, while "Surrounded By Heads And Bodies" beautifully tackles issues like rehab and loneliness in a slow, acoustic manner.
One 'song' that sticks out in particular to Isabel and I is "The Man Who Married A Robot / Love Theme." While the style of including a skit or spoken word track of some sort is no new idea (think "Fitter Happier" by Radiohead or any famous rapper using voicemails as a track), The 1975 scratches beneath the surface to jab at internet users… which is all of us, really. The song takes you on a journey of a man who spends every waking moment with the internet, even asking "Internet, do you love me?" until he dies, but the internet remains. We are that man, sharing everything with everyone even though it means nothing. And that is the overarching theme that can be found in many of the songs on this album; we spend time caring too much about our Facebooks and Instagrams, and spend too little time caring about the things and issues that actually matter, the ones that are right in front of our faces, the ones we can't see because our faces are staring at our phone screens. Now that's some heavy stuff to think about on a Saturday afternoon.
The album's B-side ends with two throwbacks. "I Couldn't Be More In Love" sounds as if it were taken directly from a high school prom in the '80s. The song, which is an ode to The 1975's fanbase, has the same frayed crooning and whimsical synth piano that are extremely reminiscent of George Michael or Michael Bolton. The second song "I Always Wanna Die (Sometimes)" is a throwback in the sense that it sounds similar to songs The 1975 made before they became big; seemingly influenced by Oasis or The Fray, the guitar accompanies lyrics that affirm how hard life is with lines like "If you can't survive/just try," a true testament to how far the band has come.
The one critique I've been seeing a lot is that the band over-uses auto-tune, and while I can see that point of view, I'm going to have to disagree. The whole theme of the album has to do with technology, so having songs that have an almost robotic voice ("How To Draw / Petrichor") really adds to that element and is purposeful. Besides, The 1975 has never been one to shy away from including techno beats and auto-tune in their songs, and they execute it wonderfully and thoughtfully.
Okay, let's review; if you like Joy Division, George Michael, Oasis, house music, Duke Ellington, gospel choirs or just good old alternative rock, chances are there is a song for you on this album. It's like if Radiohead's "OK Computer" had a child with an existential crisis about the state of the world; it would undoubtedly be the grandiloquent and thought-provoking album "A Brief Inquiry Into Online Relationships." It is an eclectic, versatile and beautifully honest album, with varied music, intriguing lyrics and a culturally relevant theme that pulls listeners in and forces them to think about the good, the bad and the ugly of living in the 21st century. "ABIIOR" broadly encompasses The 1975's range as musicians, while maintaining similar styles as used in previous albums. The multifaceted mix of jazz, pop, alternative and acoustic is somehow both nostalgic to songs of the '80s and onwards, while toeing the line of brilliance with undeniably groovy songs. The 1975 manages to execute a masterpiece of songs that you can dance to, cry to and scream the lyrics to at the top of your lungs when you're frustrated with the state of the world, and that level of eclectic variety has never been experienced or seen before.