Energetic performance by Josie Dunne gets crowd on its feet
Isabel Tuisl, Social Media Manager/Website co-editor
December 4, 2018
Josie Dunne '15 captivated her audience at her hometown show on Nov. 20 with her positive and energetic presence as she jumped around the stage all night, along with her family and friends who came out to support her.
Approaching the venue, Park West, I could already tell it was sort of a strange environment. Located at 322 W Armitage Ave., in a secluded part of the city, the General Admission concert included table seating and a dance floor in front of the stage. Although I could tell this setting was definitely more for comedy shows, Dunne still rocked out and made sure the show was as intimate and personal for her special hometown concert.
Dunne opened for John Splithoff and began her performance with a few covers of songs including "Better Now" by Post Malone, "I Will Survive" by Gloria Gaynor and "It's Raining Men" by The Weather Girls. As a big fan I wish she sang more of her own pieces, as the ratio of covers to her original work was about half and half. But I can see why she did this; she is a smaller artist so chances are people won't know a majority of her songs, and being so lively with her performances, she wanted to interact with the crowd, sacrificing some of her own work. After all, the tickets were only $18.
My personal favorites that Dunne performed were "Cool With It," "School For That," "Make You Mine" and "Old School." She also sung "Good Boys," "Sunday Morning," a collaboration with Matoma and an original that hasn't been released yet called "Go Home." She surprised the audience by pulling out a trumpet for the R&B song "Make You Mine." This really impressed the crowd and got them even more excited than Dunne had already made them.
Throughout the show Dunne expressed her happiness and excitement she felt while performing in her hometown for family and friends; a good portion representing LT. You could really tell that the LT crowd was proud of Dunne for her extraordinary musical talent and entertaining ability. She engaged with old and new fans the whole time; she even jumped off the stage at one point and danced with people in the crowd.
At the end of her performance, Dunne announced that she would be available for autographs and photos at the merchandise table. Hearing this, my fellow LION staffer Greg Smith '19 and I rushed over to get in line to meet her.
My one goal for this night was to meet Dunne because I have been a fan of her and her voice before she even started releasing her own music, and when she did put out her original work, it kept me sane. The upbeat melodies were the soundtrack to some of the happiest moments of my life, even in the midst of utter hell. From her I expected nothing less and she delivered.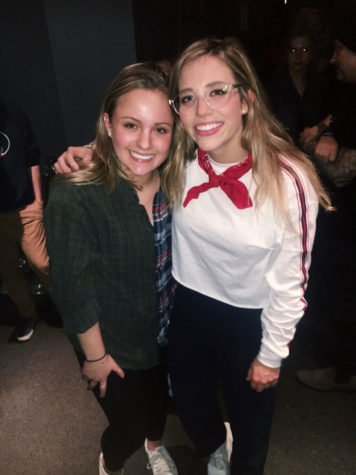 As soon as I looked up and saw her beaming face, I gave her a big hug. She then signed the t-shirt I bought as I was waiting in line. She addressed it to "Isabella" but I let it slide because… Duh, she's Josie Dunne. I had a genuine conversation with her about her music and how it has helped me tremendously through tough times, as cheesy as that sounds. She took a photo with me, pictured here, and I gave her another hug. She thanked me for coming out to her show, although it should have been me thanking her.
Dunne is hands-down the sweetest and most personable person I have ever met. She never says no to meeting any of her fans which makes me love her even more than I already do.
Ultimately, Dunne's performance was one of the best I've ever been to. She made it extremely personal and special for her hometown show, and I'm grateful to have been a part of it. Dunne definitely has big things to come and hopefully stardom is one of them.