Twenty One Pilots returns with another attention-grabbing album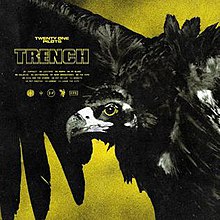 Twenty One Pilots (TOP) came out with their fifth album, "Trench," on Oct. 5, three years since their last album "Blurryface." The band's classic sound is well represented throughout the album, with dark lyrics and a combination of electronic and rock styles, making it a must-listen for fans of alt-rock style.
The two-person band, made up of drummer Josh Dun and singer/pianist Tyler Joseph, has been around since 2009. Keeping in theme with past releases, "Trench" has an overall emotional tone running throughout, using lyrics that are more melancholy. With 14 songs, a range of topics are covered, such as mental health and societal norms.
Before the album was released, TOP put out its single "Jumpsuit."  "Jumpsuit" represented much of the band's classic sound, starting off with a guitar solo, leading into a quiet set of lyrics with louder background instrumentation. Lyrics include "I crumble underneath the weight/Pressures of a new place roll my way/Jumpsuit, jumpsuit, cover me" showcasing their theme of mental conflict and dealing with society's ideals. "Jumpsuit" represents the album well, specifically the band's rock side.
Other songs mimic this style, including "Neon Gravestones" and "The Hype." "Neon Gravestones" attacks society's practice of glorifying those who have committed suicide, and the idea of taking one's own life. The song includes lyrics like "We give them the highest of praise and hang their banner from a ceiling/Communicating, further engraving/An earlier grave is an optional way." "The Hype" – which Joseph says he doesn't believe– is an alt-rock chant– along with a unique bridge. This collection of songs can guide the listener in reflecting on a deeper level, making them stand out amongst others in "Trench."
Although there were many hits on the album, there were also some less-than-favorable selections. One example being "Levitate," which is a fast-tempo rap-style song that is hard to follow. Its background melody is slightly distracting, using whistle-like echos. When looking at the lyrics, they seem to change topics quickly; "This culture is a poacher of overexposure, not today/Don't feed me to the vultures/  am a vulture who feeds on pain." With its lack of structure, "Levitate" stands out as one of the lower quality songs on the album, even though TOP sets a very high bar.
Overall, "Trench" was a moody, intense addition to Twenty One Pilots' collection of albums. They were able to keep their main themes constant throughout, using hard hitting beats and emotional lyrics. If you enjoyed TOP's past albums, "Trench" will easily become a favorite.
About the Writer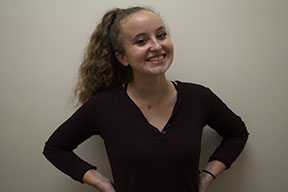 Isabella Sorice, Social Media/Photo Editor
"I don't have time to write a staff bio"