USA: the land of opportunity
You or someone you know will probably go to college for free out of state. Schools try to attract top students with stipends and full scholarships that even allow some students to do some post graduate work. The opportunities we can find outside of our home towns and states extend far beyond even higher education. Opportunities to find or create unique work and personal experiences abound outside of Illinois to a degree that they simply do not exist here.
Like it or not, Illinois is not all that great of a place. Its business climate is one of the worst in the nation mainly due to its tax system, making it unlikely that companies like Amazon will want to set up shop in our backyard. (Such an action would inject billions into the state economy in the costs of developing new locations and high-salary jobs, not to mention the tax revenue the government could collect.) The state also has a poor economic outlook from such a high proportion of the workforce being public employees, according to the Chicago Tribune. Worse yet for those public employees, Illinois is one of the worst states about funding its public pension system.
Throughout the rest of the U.S., young people such as ourselves can find endless unique opportunities in terms of employment. Many of those opportunities we can create ourselves. For example, I have an uncle who I really admire who has done this with his life. His education and work have taken him all over the world. And while his life and career do not represent anything standard or ordinary, his experiences certainly demonstrate the scope and scale of opportunity one can sometimes only find far from home.
He started out working for Oracle as a consultant. He designed several products for a company which was bought by Footlocker and holds several patents for those early internet products. He served on the board of a charity that funds research on pediatric neurological diseases. As a young man, he worked closely with Jeff Bezos at Amazon in its early days.
He retired in his 40s because he wanted to spend more time with his family. He enjoys traveling with them and they have lived abroad for years at a time.
They recently spent a couple years in Singapore. He could only get a visa to work, so he applied to a Peapod-type grocery startup called RedMart; he was hired as COO and then the company was sold to an Alibaba subsidiary. For a while, it seemed like he might sell a company to Bezos for the second time in his life.
The point of this is not that any of us need to measure our happiness or success in life against the experiences of a person such as this. Most people, myself included, will not have half the world experiences that my uncle has had. But he has had a pretty amazing and fulfilling life doing what he loves. That's what's important in life, and sometimes to do what you love, you have to leave your hometown.
About the Writer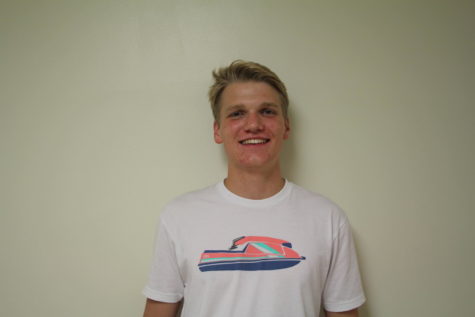 Greg Smith, Managing editor
There's no such thing as a free lunch.