A Background and Review of Orphan (2009)
[This review may contain spoilers]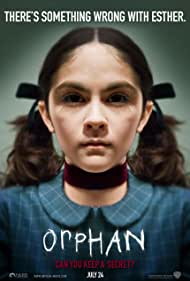 In 2007, Czech authorities were amazed and astounded by the case of Barbora Skrlová: a thirty-three-year-old woman who had just spent four months in Norway posing as a thirteen-year-old schoolboy called "Adam" in order to avoid giving testimony on a child abuse case. "Adam"'s sudden disappearance from an Oslo children's home prompted the discovery, where Skrolvá's identity was revealed, and the full extent of the situation was brought to light.
On May 7th, 2007, a man was shocked and horrified when his baby monitor picked up a signal from a monitor in his neighbor, Klara Mauerova's, basement–the basement where her sons had been tormented and abused for nearly a year. When authorities arrived at the house, both boys, as well as a twelve-year-old girl named "Anicka" (who Mauerova had met and adopted while attending university), were rescued and taken to a children's home, while their mother, Klara, and aunt, Katherina, were arrested. By the time police realized that "Anicka" was not a twelve-year-old girl, but rather, an adult woman who suffered from hypopituitarism–a disorder where a short supply of pituitary hormones can lead to problems with growth, blood pressure, or reproduction–Skrlová had already fled the children's home. From there, Skrlová would pose as the missing boy in Norway, but would ultimately be caught and returned to the Czech Republic in order to stand trial for Mauerova's case–where Klara Mauerova would confess to the abuse and torture of her children, claiming her sister Katherina and Skrlová had manipulated her into it. Sklorvá would accuse the sisters of forcing her into the situation and claim she had also been abused and tortured. All three women testified the involvement of "the Doctor", who they claimed had sent them messages telling them how to torture the boys. The Doctor was, in fact, not a doctor, but rather the leader of a religious cult, as well as Sklorvá's father. Together, the duo had convinced the already mentally ill Mauerova sisters (as well as other followers of the cult) that they could get into heaven by doing what they were told to do.
It is this strange and disturbing story that inspired director Jaume Collet-Serra's 2009 film, "Orphan".
"Orphan" follows a couple who adopts a young Russian girl called Esther–played fantastically by a then twelve-year-old Isabelle Fuhrman–in order to cope with the recent stillbirth of their third child. From the very moment they meet her, Esther is polite, intelligent, creative, and seems to fit right into their grieving family, picking up sign language in order to communicate with their youngest daughter, who is deaf, and feigning innocence when the family's son is immediately suspicious of her picture-perfect exterior. As Esther's expertly crafted facade is gradually chipped away, her manipulation and background are revealed, and her adoptive mother Kate–played by the ever-talented Vera Farmiga–will stop at nothing to protect her family and expose Esther for who and what she really is.
The movie is a truly wild ride, full of twists and turns whose immaculate execution is only rivaled by their admittedly ridiculous nature. Isabelle Fuhrman is exceedingly talented in a role that becomes more and more complex as the movie progresses. The audience watches Kate grow more and more isolated from those around her in a way that seems to reflect the way motherhood–and perhaps womanhood as a whole–can become suffocating without support from the outside world.
For the right audience, "Orphan" is two hours of excellent acting, surprisingly stylish cinematography, and a story that just gets stranger and stranger–it has its flaws, of course, but go at it with an open mind and a real willingness to get weird, and you'll find that "Orphan" is a solid 
Rating: 4.5/5 paws.