LT student raises money for those affected by Covid-19
As people are quarantined in their homes, social distancing and isolating, medical workers are working to help those affected by coronavirus and as a result, are increasing their chance of getting the virus. Some children are left without food as schools close and people's jobs are affected. Genesis Magpayo '21 hopes to help by making personalized friendship bracelets and selling them to raise money to help those affected by the pandemic, she said.
"I decided to do this because I am stuck at home and wanted to help in any way possible," Magpayo said.
Magpayo is donating the money raised to No Kid Hungry, which helps kids receive food as schools are shut down, and Partners in Health, which will work to expand testing and aid medical personnel and governments. She is charging $2 for each bracelet and is donating all of the money raised to the charities. She has sold over 10 so far, but hopes to continue selling more, Magpayo said.
Most of the people who have bought bracelets are Magpayo's family and friends including Emily Toomey '21, she said.
"I think it's important to help the effort against the coronavirus because of how widespread it is," Toomey said. "So many first responders are risking their lives day in and day out, and it's important for their safety as well as our own to take all precautions necessary. I wanted to help those who are in need of support right now."
Magpayo is selling her bracelets both online and in her neighborhood through social media such as Snapchat and Instagram, @genmagpayo.
" If I can't be in the frontlines then I want to be on the sidelines providing for the healthcare workers to stop the coronavirus," Magpayo said.
About the Writer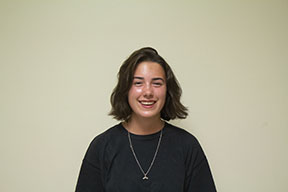 Quinn Riordan, Assistant Social Media Editor

I'm running a dojo of coolness
Sometimes you gotta work a little so you can ball a lot