Pilar's Playlist edition 8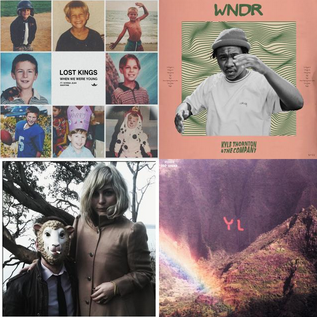 I hope everyone had a very merry Thanksgiving and enjoyed listening to "brejes" this week. Hopefully the spirit of the holidays and my playlist dedicated to my brothers (still the softest thing I've ever done) brought you a little closer to your family this Thursday; that is, until your crazy uncle said something racist and everyone started fighting. But I digress.
As many of you already know, I am a senior, and although I have a very severe case of senioritis, I am terrified of the future. The thought that at this time next year I will be in a different state, probably thousands of miles away is enough to make my heart stop. The fact that I will be friends with people at this time next year that I don't even know exist yet is mind-boggling. The fact that I have absolutely NO idea where I am going to school is enough to make me cry. Can you tell that I'm a Taurus? I don't like change. Truthfully, I am very excited for the future and I know that I'll end up where I am supposed to be next year. To me, the most petrifying part about graduating high school and going to college is the fact that I am now one step closer to adulthood. I don't want to grow up—I really don't. Because quite frankly, growing up seems terrible.
So this week's playlist is called "scared to grow up." Think of it as all of the songs you considered for your eighth-grade graduation—yes, 100 Years by Five For Fighting is on there—plus every song that makes you feel all warm and fuzzy inside. These songs make me want to hug all my friends close because I don't know if its the last time I'll have the chance to. That was too #emo for me but you get what I mean. Sometimes I'll be sitting in class and I'll think "this is the last time I'll ever experience the first snow of the year in high school," and I get kind of upset because what if the snow in Washington D.C. or Rhode Island or wherever I end up isn't as pretty as it is here? Or what if I go to Savannah and I never see snow again? Just as any other situation where I am faced with emotional turmoil, I made a playlist: a very healthy way to deal with one's emotions. This playlist features a lot of Lorde, as most of her music is about being a teenager and facing the harsh reality of growing up. Beyond that, most of the music on the playlist is mellow, acoustic music, again with the same theme of growing up and enjoying what's left of your youth.
Favorite Song:
White Teeth Teens by Lorde
I love Lorde an unhealthy amount. I wouldn't say my obsession with her is at my level of love for Taylor Swift but we are approaching that soon. I think one of the reasons that I love Lorde's freshman album Pure Heroine is because she wrote it when she was 17, which how old I am. It's refreshing to hear songs about just being a kid rather than the typical themes of love and loss that we hear from other artists. This song is a perfect example of one of those songs. The lyrics and instrumentals pair perfectly and Lorde's voice carries this song that encapsulates the feeling of being a teenager and all of the uncertainty that comes with it.
Hidden Gem: Sweet Child O Mine by Viggo Mortensen, George MacKay, Samantha Isler, Annalise Basso, Nicholas Hamilton, Kirk Ross, Philip Klein
Okay please don't hate me for this. Yes, this is a cover of a Guns N' Roses song, I am fully aware. And yes, this is from a movie soundtrack, but hear me out. This song is featured in the movie "Captain Fantastic" which is a super good movie, but this isn't a movie review. This is a completely stripped almost acapella but actually acoustic version of the classic rock song and it SLAPS. It's sung and played by the cast of the movie and features amazing harmonies and a great spin on an old classic.
Artist to watch for: Kyle Thornton & The Company
Kyle Thornton & The Company is a soul/hip-hop/R&B/jazz group based out of Boston, and their music is absolutely phenomenal. Their music features classic jazz and soul sounds but completely revamped, with songs about being left on read and falling in love. Plus, they have horns in their songs! I love horns! Hands down one of my favorite sounds to hear in songs, so they earn bonus points for that. I would recommend listening to their music ASAP, so that when they are played nonstop on the radio in a few months, you can say you listened to them first. (But I listened to them before you #quickflex.)