Girls swim, dive finishes season
LT conference dive meet ends, gets results for swim
The girls swim and dive team wrapped up its regular season on Oct 28, at SC as co-champions of conference, sharing the spotlight with Hinsdale Central. On a similar path as last year, the divers won their conference meet, and the points that they gained from the win boosted the swim's points to tie with Hinsdale for the win.
Fresh-soph dive team member Elaina Simms '19 was a factor in the meet, getting first in her level for LT against Downers Grove North, York, Hinsdale Central, Glenbard, and Oak Park River Forest. The divers also significantly increased their training leading up to their last meet.
"We had 12 members on our team, and that was cut down to six. The week before the meet we dove everyday, all 11 dives, and came in early to warm up," Simms said.
Simms did not do as well as she would have liked during her meet, but had a successful season leading up to it.
"It is what it is," Simms said. "Diving is a mental sport- anyone can dive, you don't need a certain body type or ability, you need the mental being of diving."
Swim and dive will move on because of this win. Varsity dive team member Lily Stotz '19 will be one of the two divers diving at sectionals, with one alternate diver. Stotz got fifth at conference and got her best scores this season. Sectionals will take place at Downers Grove South on Saturday, Nov 12.
"The season was so fun this year," Stotz said. "I got to know so many more people than last year since there are five new freshman."
If Stotz gets first at sectionals she will automatically move on to state; second place or lower will depend on the other diver's scores to see if she moves on.
Head coach Julie Mcdermott has led LT to win conference both times in the two years she has been coaching, last year winning sectionals as well.
"I'm nervous and excited going into sectionals," Mcdermott said. "I'm very excited to have two divers going and one alternate."
In addition to Stotz, varsity diver Julia Cozzi '18 will be diving for a sectionals title, and Erin Pouba '18 will be the alternate, Mcdermott said.
Dive is a critical factor and event for the swim team because they can gain or lose points for the total, Mcdermott said. Swim won every dual meet except against Hinsdale Central, and because of how well the divers did, LT's swim and dive was able to become co-champions with Hinsdale.
"We will probably win sectionals this year," Mcdermott said. "I don't want to say we will, but we probably will."
About the Writer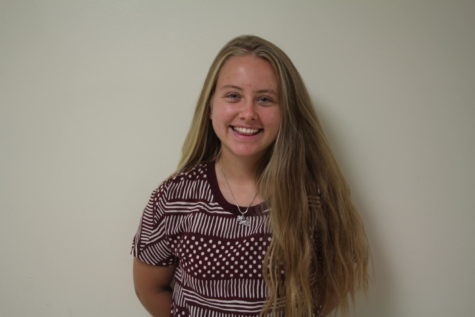 Georgia Dougherty, Pulse co-editor
Things I love include my bulldog Cow, chapstick, sneezing, saying the pledge of allegiance in Latin, and the Oxford comma. Things I don't love are vacuum...