Assistant Principal creates brotherhood at LT
New Boys II Men club created in order to foster safe space for male students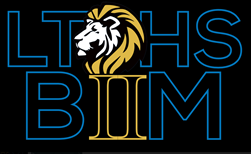 While the invitation and cookies enticed Alexander Bailey '22 to enter the lower level library at NC for the introductory meeting of the new Boys II Men (BIIM) club on Feb. 17, it was the open environment and ability to talk about what was on his mind that made him want to stick around, he said.
"Mr. [Darrell] Mathis came in and he was explaining [the club] to us, and it was so interesting to me," Bailey said. "He let us have the floor and be open and express ourselves, and men don't usually get that opportunity."
Led by Class of 2023 Assistant Principal Mathis, BIIM is an affinity group with the intent of creating a brotherhood through shared experiences and similar identities, Mathis said. Those who join are expected to support fellow members in creating a comfortable environment, in order to hold one another accountable for achieving their personal and academic goals.
[The main goal is to] establish a brotherhood for students that feels safe, supported, and connected here at LT," Mathis said. "We want to continue to foster safe spaces for students that have similarities in their identities and develop ways to support them and their specific needs."
BIIM meets during fourth and fifth lunch periods, once a week. The SC group joins together on Tuesdays, while the NC group meets on Thursdays.
 In addition to creating a smaller community within the walls of LT, the group plans on inviting guest speakers from a wide spectrum of professional backgrounds to come talk to the young men, as well as collaborating together to work on a group passion project, Mathis said. The intent of the passion project is for the members to agree on an organization or charity and develop an event to support the cause.
 "Right now, the whispers have been about an end of the year event that we put together to support a nonprofit organization within the community," Mathis said. "The students get to connect and embrace each other, while helping a charitable organization."
Some seniors, including Bailey, were contacted to be ambassadors for the group and leaders to the underclassmen. The weekly meetings are an easy opportunity for LT students to get out of their comfort zones and talk about what's on their minds.
"Mr. Mathis always has our best interests in mind and that's what made me feel really comfortable in joining the group," Bailey said. "This has been nice for me. I'm kind of stepping out of my comfort zone and I'm liking it."