Theater premiers horror play
Video game mimics teenagers' lives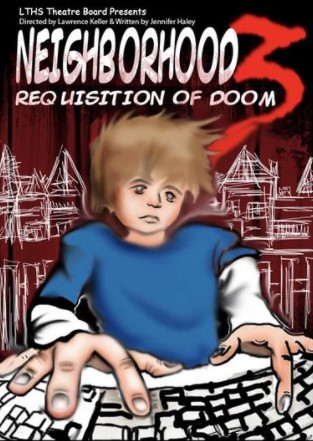 The play "Neighborhood 3: Requisition of Doom" will premiere in the NC Reber Center from Oct. 20-22 at 7 p.m. Tickets are free for LT students with their student ID—$5 for those who forget their ID and $10 for adults. The play will be performed at LT for the first time since October 2010.
"The timing worked out [since] it once again will open just before Halloween," director and English teacher Lawrence Keller said.
The play is about a group of teenagers who play a video game that uses technology to recreate their neighborhood, Naimah Arteaga '24 said. The goal of the video game is to kill zombies and get to the final level. However, as the game progresses, the kids start to forget the game is fake and it slowly becomes their reality. This causes a strain in relationships and bad habits start to develop.
"I really love the idea of it being scary," Arteaga said. "I feel like that is something that LT doesn't do a lot and it is perfect for Halloween." 
The cast has been preparing since the end of September, Monday through Friday, for about two hours each practice. This play is unique as most of the actors are only in one scene each, Cassidy Monti '23 said.
"I like that [we each] are only in one scene," Arteaga said. "I can focus on [my scene] and make it really good."
Due to the COVID-19, the actors will wear clear face masks that have a microphone taped to the outside of it so their projection will not be limited, Arteaga said. 
Neighborhood 3 is a horror play which may not be suitable for young or even older audiences; LT decided to bring it back for that very reason, as there are not many frightening plays, Keller said.
"Many in the audience were terrified [in 2010]," Keller said. "I can attest to that based on their screams."