Two men charged after guns found in car prior to homecoming dance
Homecoming event cancelled due to safety threat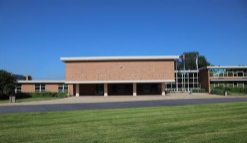 Abe Morales, News Editor, Multimedia Editor
October 6, 2021
On Saturday, Oct. 2, at around 4 p.m., the Western Springs Police Department was contacted after an anonymous tip was sent to the Lyons Township Area Communications Center, claiming that two males may have been armed with handguns. The tip came minutes after a report of a physical altercation during the homecoming football game against Proviso West High School, Western Springs police said in a statement.
The caller who sent in the anonymous tip described the behavior of the two men as suspicious. When police arrived at the scene, they identified the men while they attempted to enter a black Chrysler 200 M. The men, Demetris Ross and Donny Starks, both 19, were quickly detained while the officers searched their persons and vehicle. Western Springs police officers were able to recover two handguns under the driver and front passenger seats, according to a letter released by LT Superintendent Brian Waterman, and Principal Jennifer Tyrrell. The handguns were identified to be 9mm Glocks with an extended total of 59-round magazines. No injuries were reported. However, as a result of the incident, the homecoming dance scheduled for later that night was cancelled.
"We will make every attempt to reschedule our Homecoming Dance, and will communicate an update to our community during the upcoming week," Waterman and Tyrrell said in their letter.
For extra precautionary measures, there will be an increased police presence over the next week at the school to ensure the safety of students and staff, police officials said.
On Oct. 3, Ross and Starks were sent to the Cook County Department of Corrections. They were each charged with one account of Aggravated Unlawful Use of a Weapon and Possession of a Firearm on School Grounds—both Class 3 felonies. As of Oct. 5, the defendants have only been charged and have yet to be proven guilty or innocent.