Eurythmics team plans outdoor performances
LT dance company rehearses on shortened time frame for May shows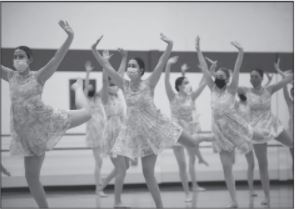 When Kate Doherty '21 opened her email and found out that the Eurythmic Dance Company was able to have a season this year, she was incredibly excited, she said. When she kept reading and found out they were able to have an outdoor performance in front of a live audience, she was even more surprised. 
"I was shocked," Doherty said. "I didn't think we'd be able to have any capacity of our normal show. The fact that we're able to have an outdoor stage is unbelievable."
Eurythmics will have outdoor performances on the nights of May 20, 21 and 22 and will have May 23 as a potential rain date, along with two daytime matinees on May 22 and 23. The shows will take place on the grass field near the NC parking lot. 
Behind the scenes, Eurythmics Dance Company technical director Colleen Gibbons has been working hard to coordinate this outdoor show and to emulate the Reber Center—the typical location for the Eurythmics show—in an outdoor setting. 
"I could not rest knowing that the dancers were being shortchanged," Gibbons said. "I'm happy to put in the work to make sure they get the show they deserve."
In addition to her yearly responsibilities for the company, Gibbons' responsibilities have also included choosing the location, and renting a sound system for outdoors, walkie talkies for the technicians helping with the show, chairs for the audience, and a big outdoor stage set to arrive May 15, Gibbons said. 
Although the show is live and outdoors, some of the dances will be pre-recorded and projected during the show, Eurythmics coach Brittany Smith said. These include tap dances and dances where the dancers are wearing pointe shoes. The shows will be after sunset to accommodate for lighting and these projections, Gibbons said. 
"One of the things that makes our show a high quality production is that it's not only dancing," Gibbons said. "The dancing is phenomenal, and they're incredibly skilled performers, but that's not the whole show. To support their efforts there's lighting, projections and tons of effects. You can't do any of those things in the daylight."
The grass field designated for the show is about 24,000 square feet and will therefore be able to fit 540 people in the audience, Gibbons said. Tickets will be sold for designated boxes that will be physically marked onto the grass with each box six feet away from all other boxes on all sides. There will be boxes for one to two people, three to four  people and seven to eight people. The different sized boxes will be interspersed to allow larger parties to purchase boxes near one another.
Other COVID-19 precautions will be taken, including a mask requirement for all audience members, sanitization of all chairs between performances and the exclusion of an intermission, Gibbons said. Instead of the usual two hour show with a 15 minute intermission, the show will be approximately 90 minutes long. 
Typically, Eurythmics starts their season in August and prepares throughout the year for their May show, but this year auditions weren't until late February due to COVID-19, Doherty said. 
"I think it's exciting because even though I feel rushed, it lights a fire under everyone," Doherty said. "I feel like our dances are going to look better than they ever have." 
Because coordinating an outdoor show is an expensive project, Eurythmics has been hosting fundraisers with local restaurants and selling items including T-shirts in order to raise money, Gibbons said. Eurythmics alumni have played a big role—from creating t-shirt designs to donating checks.
"The Eurythmics alumni have been incredibly supportive," Gibbons said. "The alumni always show up for each other, and I had no doubt that that was going to happen in this uniquely difficult time. We so appreciate the alumni and the alumni parents that are asking what they can do to help."
The team is looking forward to putting together a show for the LT community to enjoy after being unable to have one last year, Doherty said. 
"The community is always so positive about our show and we always get positive feedback," Doherty said. "They have been waiting two years for this show, so I feel like we're doing this for the community."
The dancers have been adaptable to the challenges of this year and are working hard for the show, Smith said. 
"Every day I come to rehearsal, I am proud of these dancers," Smith said. "The fact that they are all so dedicated, adaptable and passionate makes every challenge more bearable. This year has tested us all, but [Eurythmics has been an] outlet [to] keep us going."