Administration arranges graduation plans for class of 2021
Seniors prepare for multiple outdoor ceremonies, other graduation opportunities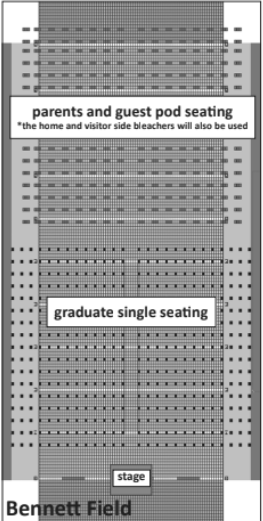 With constant changes occurring throughout the pandemic, LT administration has had to adjust to the new physical limitations of COVID-19. Throughout this year, faculty, administration, parents and students have come together in an attempt to develop new in-person options for the class of 2021's graduation ceremony to occur on May 29 at Bennett Field.
"Among a pretty tumultuous year, closure has been a topic of discussion amongst many of my friends for graduation," student council president James King '21 said. "They want some concrete ending to their high school career—something they can look back on as the 'last hurrah' of high school."
Big concerns when developing plans for the class of 2021 included cultivating a worth-while experience, keeping students and guests safe, making students feel excited at a memorable ceremony and following all COVID-19 protocols, King said. 
"A safe, responsibly planned, in-person graduation would be the perfect ending to my four years here at LT and is something I would love to look back on years later," he said. "I think we all grow up seeing big graduations in movies and TV shows. An in-person graduation is a way for us all to come together as a class and celebrate our accomplishments, as well as thank all of those at LT and in the community that have helped us along the way."
Due to the increase of knowledge about COVID-19 throughout the past year, administrators were able to develop a more secure, safe and plausible plan for the class of 2021, NC associate principal Kevin Brown said. 
"Brian Waterman and I laid out a plan to connect with our graduates, through Zoom meetings, with student council representatives, seniors who had reached out, and others just to gage some ideas on how to do it by asking them what they wanted," Brown said. 
After gauging a line of feedback from the soon-to-be graduates, it was evident that the majority of the senior class was comfortable and eager to experience an outdoor and in-person ceremony, Brown said. 
Through a survey sent out to the graduating class, administrators offered three options to the graduates: a drive up walkthrough, an outdoor ceremony, or a mailed diploma. An estimated 85% of students chose an outdoor celebration, with the following 10% choosing the drive up walkthrough and the final 5% choosing the mailed option. With these results, the decision was made to progress the planning of the outdoor ceremony. 
The newly provided information allowed LT to pursue plans to create two separate ceremonies for the class of 2021, separating it alphabetically, Brown said. Numerically, administration was unable to find a way to accomodate all 1,000 students and their families, while following safety precautions, under one ceremony. Students will be separated in an A-L group and an M-Z group, with the A-L ceremony occurring at 10 a.m. and the M-Z ceremony occurring at 1 p.m.
"It's obviously bittersweet, but I am very grateful for the smaller ceremony we're getting, especially compared to last year," Alejandra Rodriguez '21 said. "I'll still be able to have a somewhat traditional graduation, even if it isn't with the entire senior class"
The current plans are set to hold around 850 graduates between both ceremonies, with the allowance of three guests per student, Brown said. Each area of Bennett Field will be occupied by students and family members, including the field, bleachers, and a stage in which the graduates will receive their diplomas.
"If I had to give advice to my classmates about graduating under these circumstances, I would ask them to find the little things scattered throughout this process that they can enjoy," King said. "Whether it be shopping for a graduation fit with their parents or trying to make it a fun, memorable experience with people who have sacrificed so much for them to be in this position." 
With the circumstances of this year, seniors have had to face many changes surrounding the college admissions process, standardized testing and senior celebrations like prom and graduation, Rodriguez said. 
"Certainly in my 32-year career now, I've never seen a group of seniors face the challenges that this year's seniors and graduates have had to face," Brown said. "Not just as an administration but just as a community, everyone is looking to figure out ways to honor and celebrate them, because they've definitely gone through a lot amidst this pandemic."