Congressional Debate Team competes at IHSA state competition
Six students advance to semifinals at virtual meet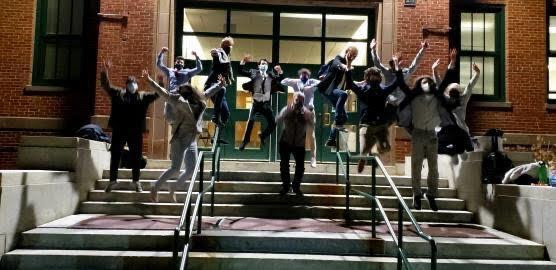 Six semifinalists from the LTHS Congressional Debate Team competed for IHSA state in a two-day tournament that went from Friday, March 12 to Saturday, March 13. The team members were scattered around the Reber Center to debate virtually through a Zoom call.
Prior to the pandemic, the debate team would travel to Bloomington to compete at the Illinois State University college campus; however alterations occurred to fit CDC guidelines, debate team captain Keeley Mahoney '21 said. 
"There was such a great energy throughout the competition, and we were all able to spend that time together like it was a normal IHSA competition," Mahoney said. "We were still able to create a lot of memories with the team."
In preparation for the tournament, the team was given a packet of preliminary bills written by students, related to economics, foreign affairs and domestic policies, semifinalist and debate team member Loretta Walker '22 said. The team spent two and a half weeks researching the topics of these bills, discussing the consequences if they were passed and preparing speeches.
"It was a big time crunch because we usually have a month to prepare [for IHSA state]" Walker said. "There were a lot of late nights, but it was good." 
Initially, the team had 10 students competing for the tournament, assistant advisor Maria Ricker said. Six were able to advance to semifinals, which was a proud accomplishment for the team who, in previous years, normally had about three students advance to semifinals. There were 60 students in total competing—10% of them from LT. 
"Even though we didn't make it to the final round and didn't win any medals, that was still a big accomplishment," Ricker said.
Although no one from LT advanced to finals, many of the students were ranked high, Mahoney said. 
 "I'm so proud of how everyone did and how we really pulled it together," Walker said. "Even the people who didn't break [into semifinals] had some of the top scores for the season on their speeches."