Freestyle relay ream places first at state
The student section cheered with excitement as Jack Thorell '20 passed St. Charles High School's relay team to finish in first place in the 200 yard Freestyle Relay at the state meet at Evanston High School on Feb. 29. The team, consisting of Thorell, Bryson Breitenbucher '20, Michael Schoneman '21, and Jack Wanless '22, expected to be in the lead after an almost record breaking preliminary race, but it took every push from these swimmers to feel the satisfaction and excitement of seeing their team's name plastered on the scoreboard with first place next to it, Thorell said.
"It was different from last year," Thorell said. "Bryson and I won the Medley race last year, but we didn't expect to at all. This year, we went into the meet expecting to win this relay, and actually winning it was a lot more satisfying. We worked toward this the whole season. This was our goal from the beginning."
This was the first time the LT swim team has won the 200 yard Freestyle Relay. This accomplishment made winning this event even sweeter for the team, Thorell said.
Over the past five years, LT swim has had a tradition of excellence, head coach Erin Rodriguez said. The LT swim team won state titles in 2016 and 2017, got second in 2018, and fifth in 2019. This year the team overall placed sixth.
"The boys know there are expectations on them as LT swimmers," Rodriguez said. "They are motivated to make those who came before them proud and show them that the team is in good hands. We needed a lot of new guys to step up this season due to our losses from our senior class last year. Being put in those situations and given those opportunities made the younger swimmers more confident and motivated to work hard."
This year was Schoneman and Wanless' first appearance at state. In addition, this season they also broke the conference record of two years with their 200 yard Freestyle Relay team.
"We've really worked hard this year especially for this race because we knew this was our best shot to win," Wanless said. " [Breitenbucher], Jack Thorell, Michael [Schoneman] and I were always grinding it out in practice. I think the biggest thing that led up to our success was how close we are as a team. It's not very easy to get through the swim season because of how hard it is, but when you have a bunch of guys that you like being with it makes it a lot better."
Along with the team's 200 Freestyle Relay first place finish, state went as well as if not better than the team had hoped, Rodrigeuz said. The 400 Freestyle Relay team (made up of Thorell, Breitenbucher, Wanless, and Tomas Samoulis '21) placed fourth, Thorell finished third in the 50 Freestyle and fourth in the 100 Freestyle . Breitenbucher finished eighth in the 50 Freestyle.
"We lost a few seniors last year that we knew we would have to replace this season," Rodriguez said. "As a coach, you never really know who is going to step up and fill those spots. We had a lot of swimmers at their first state meet and they stepped up to make the whole weekend as successful as it was."
About the Writer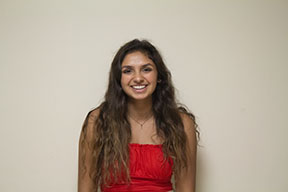 Lizzie Patel, Reporter
I'm straight up not having a good time