Teacher receives National Certificate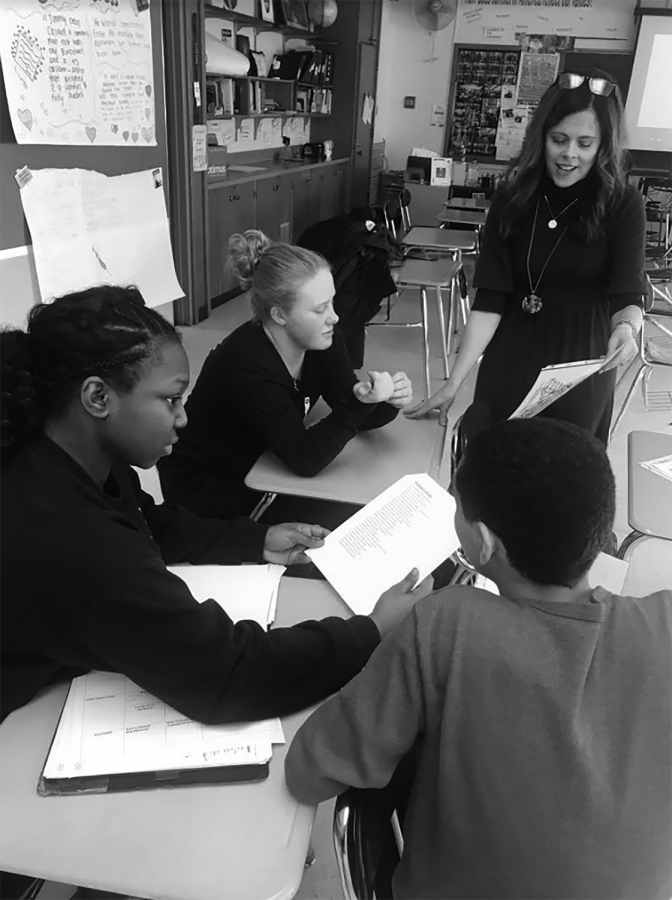 It had been a long time coming for American Studies teacher Katy Newcomb, whose National Board Certificate for teaching history became official on Dec. 7, 2019. The three-year journey to certification was a rigorous one, but finally completing the process feels amazing, she said.
"It was pretty cool," Newcomb said. "This semester has been really surprising, [with how many people] have said congratulations to me…it's very flattering."
Newcomb has worked at LT for 22 years. She is the only teacher at LT that is currently National Board-Certified, Principal Brian Waterman said and there is value in having a Board-Certified teacher.
"The National Board Certification process requires a commitment from the teacher," Waterman said. "It underscores the desire and passion that teachers have toward implementing a continuous improvement process."
Newcomb applied for the certification in May of 2016 after hearing about the opportunity through some of her colleagues. They thought it would be a process she would enjoy, considering her vast experience as a teacher, she said.
"I was looking for a way to invigorate my teaching and challenge myself," Newcomb said.
The National Board Certificate is an achievement that, "develop[s], retain[s] and recognize[s] accomplished teachers," according to the National Board's website. Hopeful recipients must tackle a series of components, including a test, researching the backgrounds of students and using that research to develop class material for individual students, Newcomb said. While teachers at LT do these things every year, the level at which the National Board requires they be done is much higher than it is on a usual basis, she said.
"When you've been teaching for a long time, it almost becomes automatic sometimes," Newcomb said. "This process really forced me to stop and consider all of the little things that we put into our assignments."
The process was never easy. Newcomb had a couple of setbacks along the way, including missing certification in December of 2018 by eight points out of 110, she said. Despite the disappointment, Newcomb kept persevering, redoing her class material and reaching out to other teachers who were working towards certification.
"Talking to and getting advice from other teachers who were going through the process really helped me," Newcomb said. "Now I'm involved in some Facebook groups with National Board Certification [and can be] helping others."
Newcomb's husband, Andrew Newcomb, is also a history teacher at LT. While she was completing the time-consuming writing requirements for certification, her husband would help with some of her out-of-school responsibilities, he said.
"She's really focused," he said. "She's always looking for the best way or a new way to present material to students. She's not the type of teacher who rolls over content from the year before; she's always looking to take whatever the lesson is and improve it for her students."
Going forward, Newcomb hopes to get more involved with one-on-one tutoring, as well as "helping student-teachers become teachers themselves. But for now, Newcomb plans on continuing to teach at LT and renewing her certification through the National Board every five years, she said.
"Teaching is a humbling experience," Newcomb said, "I think that's part of why I love it because you're never done, it's an ongoing process.