Students perform in family band
Melody '20 and Anna Reyes '20 sit in their basement with their dad, music and laughter filling the room. Melody singing, Anna playing piano, and their dad, Dan Reyes, strumming on the guitar, as they practice "Tongue Tied" by Grouplove. The song comes together as the instruments meld into one. The music flows and with it the emotion and happiness that comes from playing and being together both in and out of the band, Dan said.
"We always had fun together [playing music]," Dan said. "When they were in grade school we did camp outs, pinewood derby and lots of other stuff together, just the three of us. So playing music is something we do together now that they are teenagers. I cherish the time we spend together because I know they are growing up and will be in college soon."
The three officially started their band "indiekids" where they play alternative and indie covers and original music during Melody and Anna's freshman year, Anna said. They were playing a song at their cousin's quinceanera together when their uncle asked if he could book gigs for them. They began mostly at bars and smaller venues but now are expanding to play more fests and neighborhood festivals, where more people can come and see their shows.
"Music has brought us all together," Melody said. "Our extended family plays music too. We will have jam sessions at family parties and it is fun to participate in those. At this one gig at a small bar in the city, all of our family came out [including] my grandma and sisters. We also were able to sneak some of our friends in to see us. It was such a fun time and great with everyone there."
Melody and Anna both began playing piano in kindergarten and they picked up several instruments since then, including the ukulele and harmonica along with singing. Dan has been playing guitar since he was in high school as well and has continued to write originals along with Melody, he said. They hope to write an EP soon including originals Melody has written and they perform together as a band.
"Music has always been a part of my life," Dan said. "When I was younger I wrote and performed my own music, and now I do it for fun. I plan to do it for as long as the girls will have me."
However, they had to learn to adapt to playing in a group versus individually, Melody said. They have to take time to practice all together, sometimes cramming for hours before a gig if necessary.
"Playing in a band is different than just playing piano," Melody said. "Where you just play what is written, [in a band] you have to feel it more. It is a whole different kind of playing."
Music has become a big part of the Reyes family, Anna said. They have played music since they were 5 years old, making it a prominent part of all of their lives.
"I wish everyone could enjoy or appreciate music as much as I do," Dan said. "It has given me so much joy over the years. It is an escape, creative outlet, and a great way to spend time. I was never good at golf, so this is how I spend a lot of my free time."
Their next gig will be this summer at a festival, but they update their Instagram (@indiekidsband) with all upcoming shows for their followers to see.
About the Writer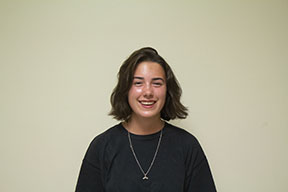 Quinn Riordan, Assistant Social Media Editor

I'm running a dojo of coolness
Sometimes you gotta work a little so you can ball a lot