Lifeguard club returns
A few decades ago, LT had its own Guard Club that held open swims, lifeguard training and offered certification to students. Years later, through the help of sponsor Patricia Devitt, the newly named Lifeguard club returns for its pilot year in hopes to create an environment that offers students an educational and informative experience once again.
"My first big goal was to bring back open swim at LT," Devitt said. "I really wanted to empower the kids to take initiative and work hard to bring something back that helped teach them and others. We wanted to make a big impact on the community and utilize the club to offer a great opportunity."
Lifeguard Club meets once a month at the NC pool and hosts open swim for the community on Thursdays and Sundays where certified members are able to guard, Devitt said. The meetings usually consist of in-service training, helping members achieve their lifeguard certification or helping already-certified guards learn more life-saving and procedural skills.
"We really wanted to work on our team-building and focus on our long-term goals for the club," Devitt said. "We hope to interact with other clubs like Best Buddies and be able to supervise a fun open swim event that would be targeted to its members."
There are around 25 active members within the club, some of which are not old enough to achieve certification but are able to observe open-swim guarding and other water skill training, president of the club Zach Patrick '20 said.
"For the kids who have no experience, it's a great way to spend their time after school," Patrick said. "For just a few hours of commitment you're really learning about water safety and how to make a community out of people who enjoy the same things you do."
During training, guards cover emergency protocol, back boarding and extractions, Patrick said. They also are able to obtain leadership positions within the club, which offer a platform for their skills to be utilized.
"It's taught me a lot about confidence and public speaking and the responsibility it takes to be able to truly fulfill your position and being able to give it your all," Patrick said.
The club is still growing and has had as many as 70 people attend an open swim night, which requires many certified lifeguards to attend, Patrick said.
"I think other kids who are just learning feel that they're in a comfortable environment to ask questions and learn the basics of water training," vice president of the club Tiffany Trujillo '21 said. "The club has definitely taught me a lot about being a leader within my community, and I couldn't have asked for anything better."
About the Writer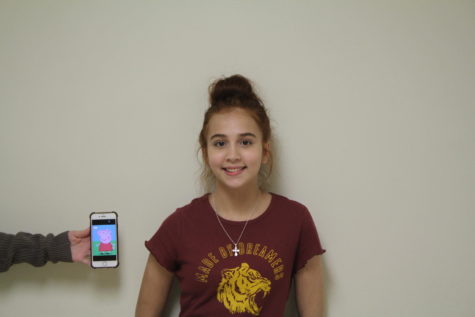 Brianna Fonseca, Reporter
peppa… what are you doing in my mugshot?