Juniors start creative writing club
Sasha Kruger '21 and Carmen Frieh '21 were both enrolled in Creative Writing class this fall. During the class, they realized that they wished there were more opportunities for creative writing outside of class, so they asked English teacher Nicole Lombardi to be the sponsor of their new club.
"We want people at NC and SC to be able to have a place to do creative writing," Kruger said. 
The club's first meeting was on the first day of second semester and about 16 people showed up, Kruger said. While the club originally met every Tuesday, the meeting date changed to every other Tuesday at NC.
"The club has a similar feel to the class, and it is nice to have people to share my writing with and get feedback from other writers," club member Thalir Morrthi '20 said.  
At the meetings, people bring original works to read where they get positive feedback and if they want they can also get critiques, Lombardi said. It is different from the class because they don't expect the writer to go back to the piece to revise. Instead of giving specific edits, they give broader positive comments. They discuss what they relate to and what process the writer took. 
"It's a really safe place where people can share and express their feelings through their writing," Kruger said. "It has helped me and I know it has and can also help others."
Some of the writing is for enjoyment, while others will be submitted to Menagerie or other publications and others will be read at Open Mic Cafe, Lombardi said. 
"Open Mic went great," Kruger said. "We had a couple of staff read and a couple of students read their own pieces." 
Open Mic Cafe will be during fourth period lunches where students and staff can come and read or just listen, Lombardi said. They are hoping to host one per month.
"We are hoping to build a community through writing," Lombardi said.  "My creative writing class gelled because they are sharing with each other every day."
Kruger and Frieh became friends through their Creative Writing class, Frieh said. Frieh transferred to LT this year and the two would talk in class and started talking more when they started working on the club. 
"Sasha has such an innocent love of the craft," Lombardi said. "She loves the process itself and Carmen really gets in the zone. They were both really vulnerable in their writing. Writing makes it easier to have empathy for one another and appreciate who each other are. Finding something positive in every piece helps them see the positive in each other."
About the Writer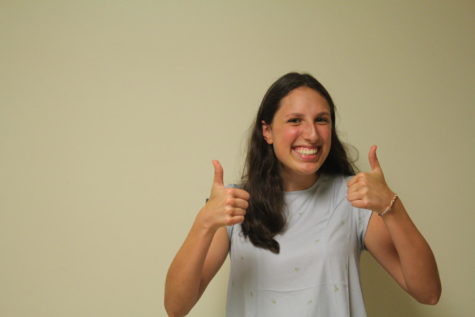 Nicole Klein, Website Editor
Once again, I am not related to Calvin Klein, but yes I know that would be cool!