BPA sends members to state competition
As the season advances, the Business Professionals of America (BPA) has completed regionals and is moving on to bigger competition at the State Leadership Conference, which runs Feb. 27-29. The team has been busy practicing and preparing for its events, co-advisor Jenifer Walker said.
"[As BPA members] put in the time and effort, they will be able to reach their goals of moving up in levels of competition," Walker said.
From the 35 students that previously competed at regionals, 21 are continuing to state in Oakbrook. President of the club Mira Dedhia '21, is competing in two events: Payroll Accounting and Medical Office Procedures. Through BPA, students are able to compete in a range of events, Walker said. The topics range from computer programming to giving presentations.
"I have enjoyed gaining insight into the business world as well as interacting with my peers at the regional and state level competitions," Dedhia said. "I am so appreciative of what LT has to offer us at the local level, and I wanted to be able to contribute to our local BPA chapter."
Members who attend state have the chance to immerse themselves in the business world and explore a potential future career, as well as see a wider range of skills, Walker said.
"BPA has challenged me to deeper explore the ins and outs of business and has shown me what it is like to have a career in the business field," BPA member Charlotte Sands '22 said. "It also has introduced me to different career paths and helps me find what I'm interested in."
In order to prepare for this competition, Sands and Dedhia have been going over material from previous years as well as working on computer skills.
"BPA has taught me a lot of life skills. It has many different events to compete in, and I think that all of them are practical and useful for everyday life," Dedhia said. "Not only have I gained knowledge specific to all of these events, I have also gained a large perspective on being a part of the business sphere."
Walker has high hopes for the members competing this weekend, she said.
"[State] creates excitement and inspires a friendly competition," Walker said. "BPA members thrive in this situation: they are prepared and ready, and we are very proud of them. There is great excitement in getting to compete at the state & national level – win or lose, members always cheer each other on which is wonderful to see."
About the Writer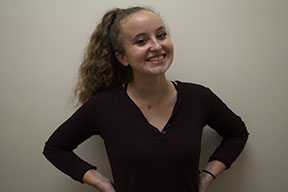 Isabella Sorice, Social Media/Photo Editor
"I don't have time to write a staff bio"