Theatre prepares to perform musical comedy, 'Spamalot'
Due to the high number of talented students that auditioned for this year's musical, LT theatre will use its first ever split cast to put on "Monty Python's Spamalot" from Feb. 20-23. Spamalot is a musical comedy parodying the 1975 film "Monty Python and the Holy Grail" which pokes fun at the legends of King Arthur.
"It's still musical theatre," Lancelot Sam Sugarman '20 said. "There is song and dance and it's important, but it's more about the lines and the humor. It may not have the hype of 'Grease,' but I think it could be better than 'Grease.' It's a high school theater production. It is not going to be Broadway level, but comedy doesn't change. High school voices are different than Broadway voices, but you can deliver a line or a joke whether you're on Broadway or 17. That's what makes it great."
Directors Mike Kuehl and Lawrence Keller chose "Spamalot" to try to give as many kids an opportunity to enjoy the fun and comedy of theater, Keller said. It is a rare show in which all major cast members need to be funny. It relies heavily on music and song, led by Musical Director John Musick, as well as comedy rather than heavy dance. However, through the large dance ensemble more dance has been incorporated throughout the show.
"We want the audience to leave and not be able to pick a favorite part," Choreographer Bridget Dominiak said. "The songs are so catchy. The dance is my favorite part, but the humor is outrageous. I want people to leave having no idea what to say if someone asks what their favorite part is because they just loved so much of it."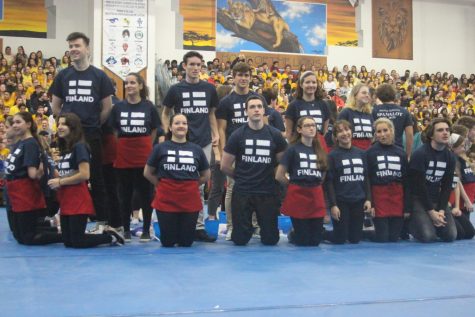 After the buzz surrounding last year's musical, "Grease," "Spamalot" auditions were filled with a high number of talents, Dominiak said. Split casting was needed to give as many of these talented kids a chance to shine as possible.
"I love that it's a split cast. [Lady of the Lake] Caroline [Garvin '21] and I get to work together on everything," Lady of the Lake Zoe Kales '21 said. "It's easier when you have someone to help you who is doing the same thing. It's different, but I am really enjoying it."
Split casting has allowed for a lot more actors to be involved in a lot more parts of the show, Dominiak said. The audience may not even notice, but due to the abundance of talent, the ensembles have been split into smaller choruses. The actors are always switching out, and it is never the same kids in every number.
"I love being in ensemble," Garvin said. "But I also love having a part and learning lines and learning all the songs and getting to be alone on stage to perform a big number. I love that. I also get to learn fun dances for the dance ensemble. It's interesting to be able to watch Zoe [Kales] play the same part as me but be in the back while she is center stage."
A big goal for "Spamalot" is to make the show look fun and keep the audience having fun, Keller said. The hours and everything that the directors and choreographers ask from the kids is leading up to the gratifying feeling of being up on stage. With its "360" performance, the show draws attention to every inch of the Reber Center.
"'Spamalot' is about laughs," Keller said. "It's about the joy of musicals."
About the Writer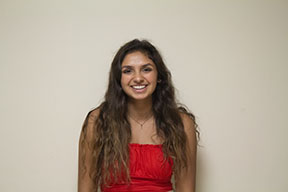 Lizzie Patel, Reporter
I'm straight up not having a good time